Almost ten years after the start of Van Iperen International, we were happy to take part, from 15th to 17th of January, in our first exhibition in France: SIVAL 2019, which took place in Angers, Loire Valley. Mathieu Cailleau, our Sales Manager responsible for France who actually grew up as a son of apple growers in this same Valley, shares his experience on SIVAL and the challenges on the French market today.
"By the size of its agriculture, France has been a target market by Van Iperen from the early stages of the company. Today, France remains the largest agricultural surface in the European Union and is by far the largest producer of agricultural goods in Europe accounting for 73 billion Euro, Germany being second with 56 billion¹. The first milestone of our sales in France have been driven successfully by Philippe Artige until 2015 when I took over the responsibility for this market. France is much atomized referring to the distribution so we have a large number of customers all over the country. We are proud to have found reliable partners in the main agricultural areas", Mathieu says.
In this context, we were excited to exhibit at SIVAL this year. SIVAL is one of the leading European trade shows for plant production in Europe. With nearly 640 exhibitors and 25.000 professional visitors, it is the only trade show in France to present a comprehensive offering of equipment and services for all plant productions: arboriculture, vegetable crops, seeds, horticulture, viticulture and aromatic plants, among others.
Mathieu: "The Van Iperen team, well represented by Laurent Aubertin, Marine Denion-Lair and myself, spent a very enthusiastic time at this first exhibition in France. We had a chance to welcome numerous French customers, spend a good time with them and present them our novelties. It was also a great opportunity to meet many new contacts, very promising. Such an exhibition is also a wonderful opportunity to meet our end users: the growers. They are the heart of our activity and we had plenty of occasion to discuss and get feedback from them on the usage of fertilizers and their expectations for tomorrow."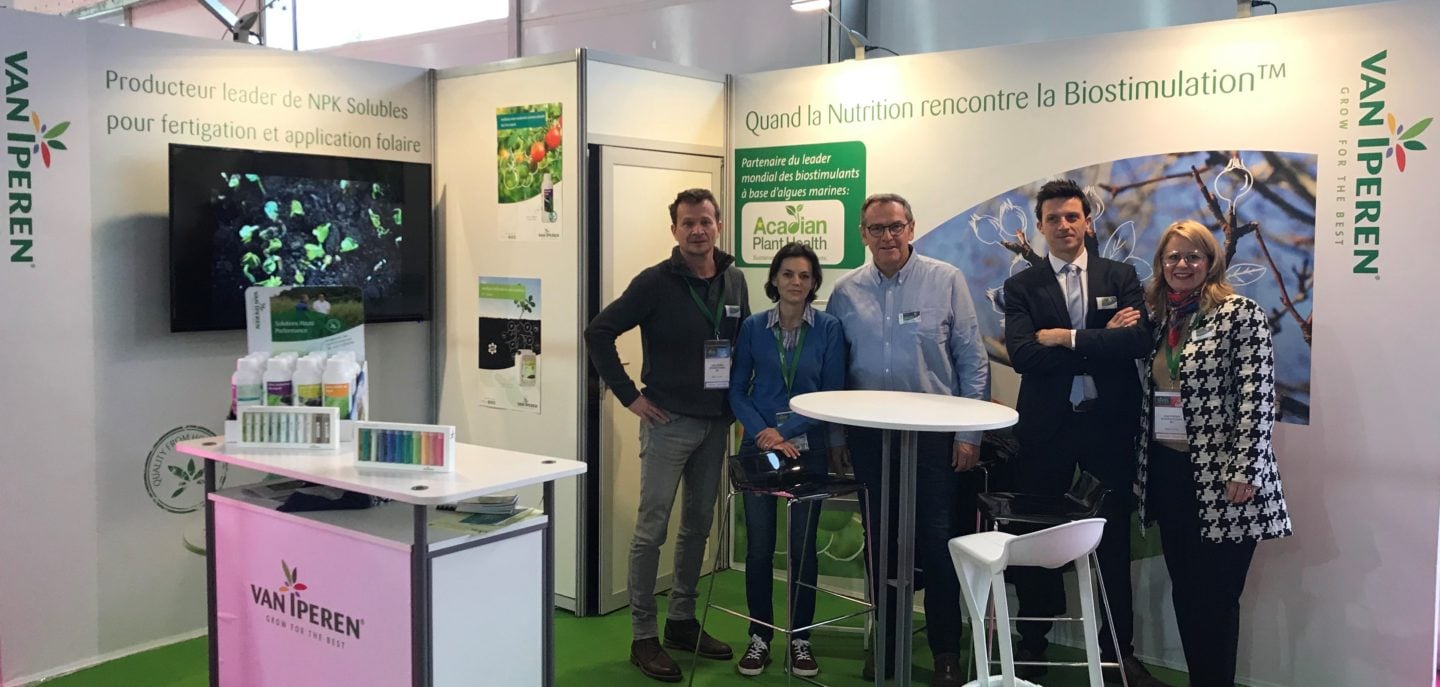 Internationalization at SIVAL has been one of the main development strategies for many years. This year, 17% were foreign exhibitors and more than 2.000 foreign visitors attended. "We have welcomed on our booth customers and contacts from among others Morocco, Lebanon, Russia, Algeria, Romania, Slovakia and Tunisia", Mathieu continues.
"We also tested our key message: "Where Nutrition meets Biostimulation™" at the fair. It seems the concept was eye-catching and appreciated by the growers. The cooperation with Acadian Plant Health™ was clearly visible with their logo and was proudly supported by the presence of Christian Hubener and Irina Koshel from Acadian Seaplants during the whole event. They were able to explain to our customers how the Ascophyllum nodosum can help the plant to resist to abiotic stress and therefore help the plant to deliver high quality crops. We have shown to the growers that for apple, pears, vineyard, flowers and vegetables we are able to come with a solution for many of their current issues. It appears from all our discussions that beyond Nutrition, there is a solid and growing interest for Biostimulants".
Like in many other countries around the world, one of the main concerns for growers in France is to produce quality and quantity products with less input. With our range of products aimed at optimizing Nutrient Use Efficiency (NUE) we were able to make several consistent presentations on our High Performing Solutions (seaweed, IPE® and WAKE-up® technologies). "All the new contacts we have met have been impressed by the wideness of our portfolio, and that we could follow the nutrition of their plant during the full cycle thanks to our Water Soluble Straights, wide range of NPK Solutions, Micronutrients and now with the advanced biostimulants. Van Iperen is now perceived as a real alternative to the main historical players!", Mathieu proudly concludes.
¹ French Ministry of Agriculture, 2017