GreenSwitch® Potassium is a fossil fuel-free production process, up-cycling residues from electric car batteries and the paper and pulp industry with zero emission and zero pollution. The final product is GreenSwitch® Potassium Sulphate, a pure and fully water-soluble Potassium Sulphate with a close to zero carbon footprint suitable for foliar and fertigation applications. Produced in Sweden by our industrial partner CINIS Fertilizer, GreenSwitch® Potassium Sulphate is exclusively marketed by Van Iperen International.
What makes GreenSwitch® Potassium process unique?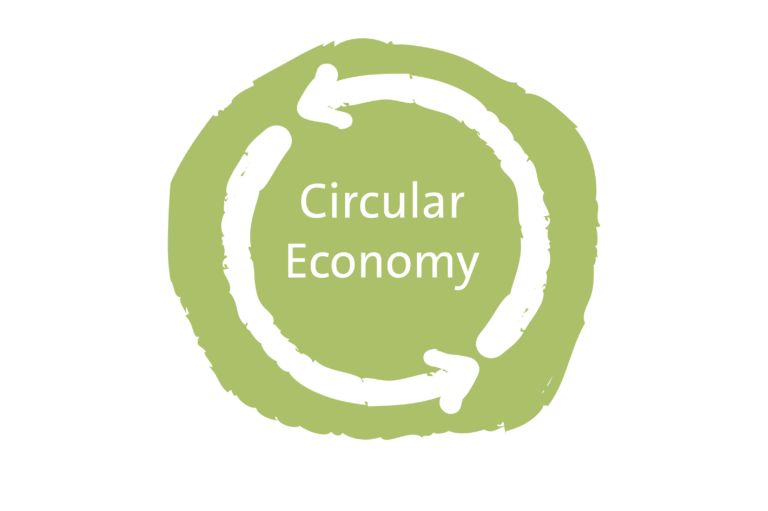 The GreenSwitch® Potassium process, based on CINIS Technology, is grounded on using residues from other industries, including ashes from pulp mills and Sodium Sulphate (Na2SO4) from electric car battery manufacturing. These industries are looking for sustainable ways to handle their by-products, and with the increasing demand for electric cars in the years ahead, the recycling of their residue is becoming an increasingly crucial issue. This method of using residues as raw material in the production process of Potassium Sulphate is one-of-a-kind worldwide and is protected by a patent.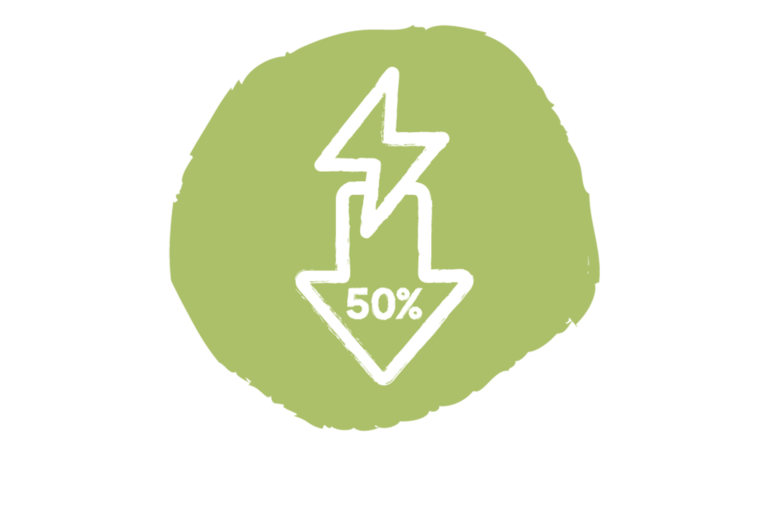 Nowadays, the most operated production process to produce conventional Potassium Sulphate is the Mannheim process. In this process, acid is mixed with KCl in a reaction at 700 oC using oil or natural gas.
The GreenSwitch Potassium process runs at low temperatures (25-30 oC) and low pressure resulting in 50% less energy consumed. The GreenSwitch Potassium process is based on green hydroelectrical power.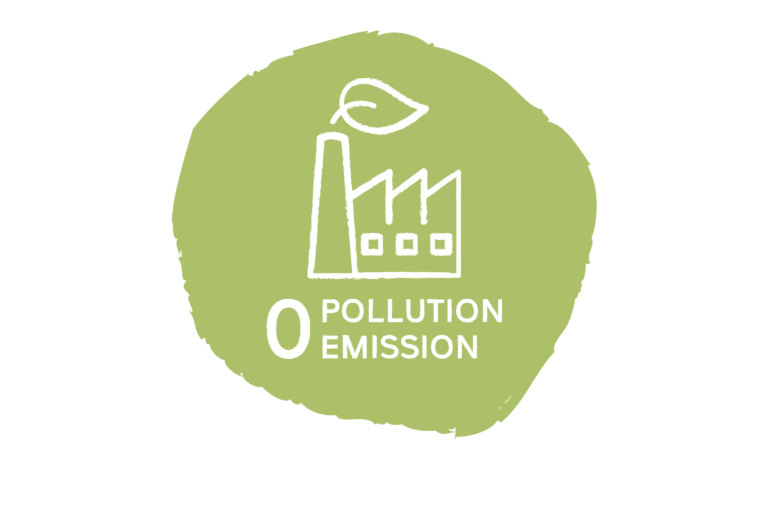 The GreenSwitch Potassium process does not release any emissions into the environment. In case of extra heat, it will be sold to the grid for district heating. All the water that is consumed in the process is entirely recycled. Besides Potassium Sulphate, the GreenSwitch Potassium process generates Sodium Chloride (NaCl), commonly known as salt or table salt or used to de-ice roads. It's a totally safe, sustainable, and commercial by-product.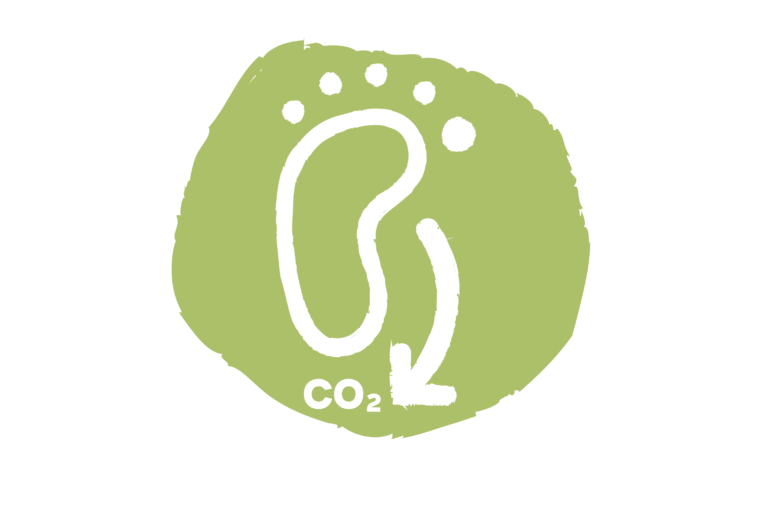 Because of the process itself, the circularity, and the use of green energy, the carbon footprint of the GreenSwitch Potassium process is strongly reduced compared to the  Mannheim process. Currently, a full LCA ( Life Cycle Assessment) of the GreenSwitch Potassium production process is done to provide certified data on the carbon footprint.
GreenSwitch® Potassium process: A circular and sustainable production process
In short, the patent-protected process uses waste from other industries – ash from pulp and paper mills and waste salts (Na2SO4) from electric car battery manufacturing – to produce a circular and fossil-free fertilizer, water-soluble potassium sulphate (SOP). The production process runs on green electricity, recycles all water, and is designed to be emission and pollution free. Compared to the dominant SOP production process, the Mannheim process, Cinis Fertilizer's process will have 50% lower energy consumption.

New business partnership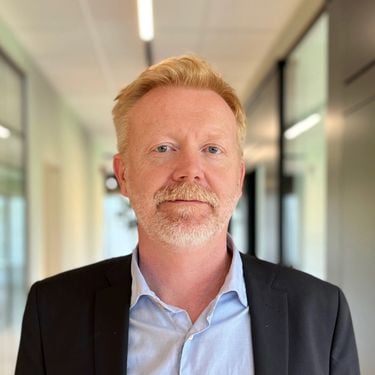 Van Iperen International aims to introduce new sustainable technologies in crop nutrition and distribute that through its global marketing network. Jakob Liedberg, Founder of CINIS, explains: "Fertilizers bring huge benefits to agriculture and society, but producing them is heavily dependent on fossil fuels. We are very happy to make a crossed-sector alliance with electric vehicle batteries and pulp and paper industries on our mission to close the loop on recycling useful industrial waste. The goal: producing a fossil fuel-free high-quality fertilizer with significantly less negative climate impact than today's standards."
GreenSwitch® Potassium Sulphate (SOP) Horticultural grade, the final product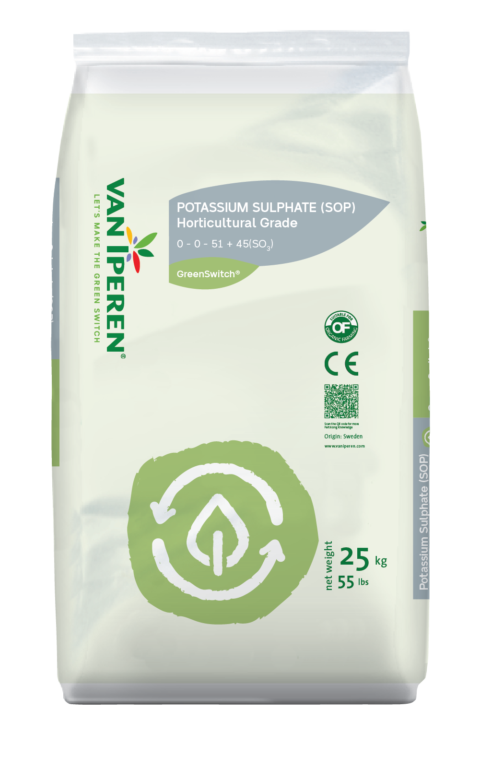 GreenSwitch® Potassium Sulphate (SOP) Horticultural grade is a minimum 51% K2O potassium oxide formula, pure and fully water soluble, suitable for foliar and fertigation applications. The product is not sensitive to caking and can be used in any fertilization program like conventional Water Soluble SOP. It is recommended during fruit or tuber development until maturation and during the coloring of fruits. The high level of Potassium in our formula plays an essential role in achieving higher-quality yields, promoting drought tolerance, and more.
Growers using GreenSwitch products reduce their Carbon Footprint and bring waste back to life. With GreenSwitch potassium sulphate, growers make the switch to sustainable high-tech agriculture.
GreenSwitch® Potassium, another step in our Green Switch Journey!
GreenSwitch® Potassium is part of the innovation projects to support our Green Switch Journey. With this journey, we want to bring our contribution to increasing the sustainability of global agriculture, both greenhouse horticulture, and open field. How? With Plants for Plants®, GreenSwitch Nitrate®, and GreenSwitch Potassium®.
By creating less polluting production processes such as GreenSwitch® Potassium, we can provide the growers with sustainable, reliable, and efficient solutions, chemically identical to the products currently used in high-tech agriculture and horticulture. Now, let's make the green switch!