Water Use Efficiency (WUE) and crop quality are big concerns for dryland farming, in semi-arid areas as well as in irrigated lands. Making the most of the water resources in a more clever way is becoming a mandatory challenge. Iperen WAKE-up® Liquid is an innovative foliar solution developed to support growers in facing today's agricultural challenges. It is a one-of-a-kind solution, improving both Water Use Efficiency and Crop Quality.
Water Use Efficiency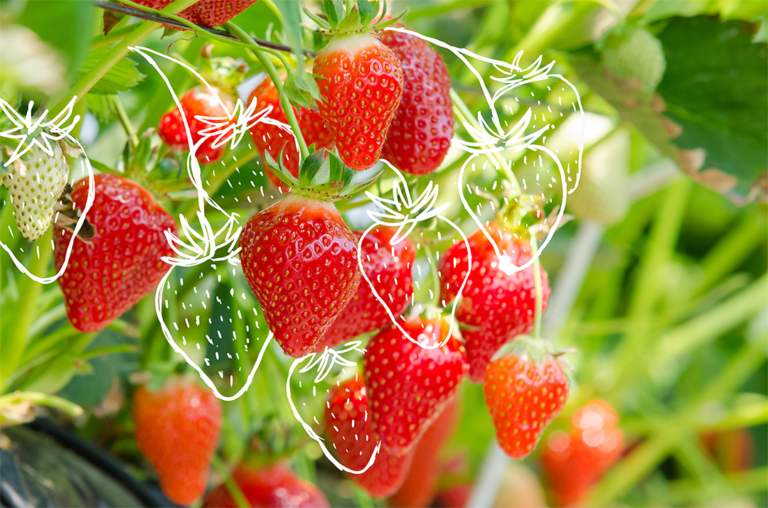 Nowadays, water management is one of the most important issues that growers around the world have to face. A prolonged exposure to wind and heat conditions negatively affect the physiological cycle of the crop and results in a reduced yield. Our Iperen WAKE-up® Liquid is able to counteract these effects of drought and heat by enhancing the water uptake and improving the water balance status of the plant.
Proven effects on Water Use Efficiency
Several trials with Iperen WAKE-up®  Liquid, conducted under abiotic stress conditions (wind, heat, drought), have shown very good results on improving the Water Use Efficiency. For example in a Melon trial we noticed a significant withering delay after only 4 days of stress, as well as a prolonged use of water, as shown in the graphs.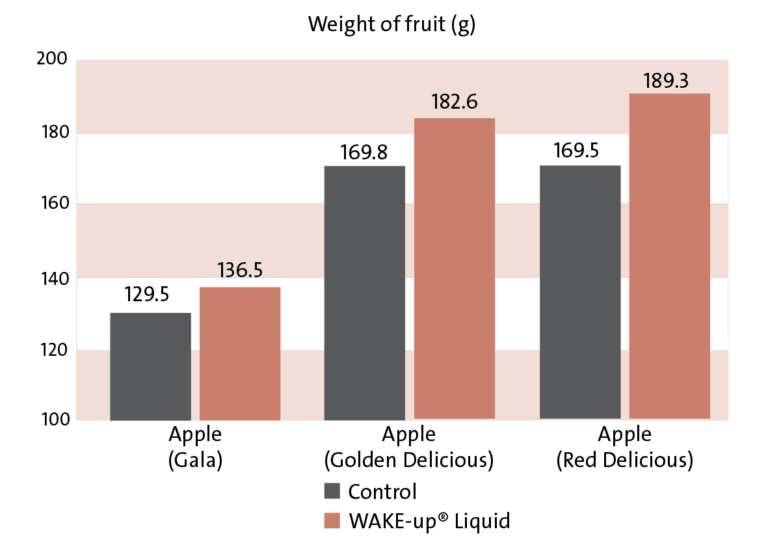 A big challenge when crops are suffering from abiotic stress is not only to keep the crop alive, but also to maintain the physiological activity of the plant (evapotranspiration) and therefore maintain the crop development and growth. We have observed clear positive effects of Iperen WAKE-up® Liquid on the yield. The graph shows significant effect on apple weight on the 3 different varieties compared to the control.
Crop Quality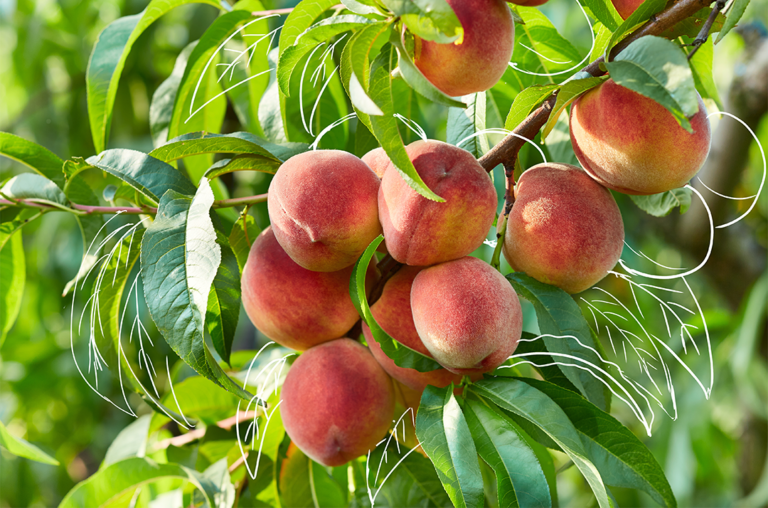 For a grower, better crop performance means a higher final yield without making compromise on crop quality: fruit color, taste, brix content and shelf-life. Prime harvesting and being the first on the market thanks to an earlier picking is also a good advantage. Thanks to its effect on WUE and high K content, WAKE-up® Liquid guarantees perfect conditions for the crop to reach its maximum quality potential!
Proven effects on Crop quality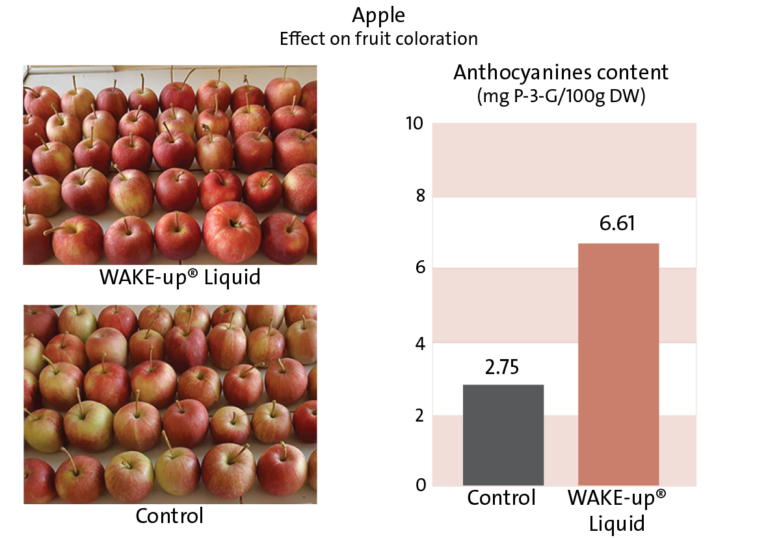 Color is the first quality criteria evaluated by consumers. A vibrant color of a fruit or vegetable immediately attracts the attention of the consumer and will make it more likable to buy, so growers need to meet this requirement. Iperen WAKE-up® Liquid has shown significant improvements in fruit coloration on many crops. For example, as shown in the pictures, there was a 34% improved final coloration of Gala apples on visual assessment and anthocyanines level were significantly higher  in the treated plot with Iperen WAKE-up® Liquid.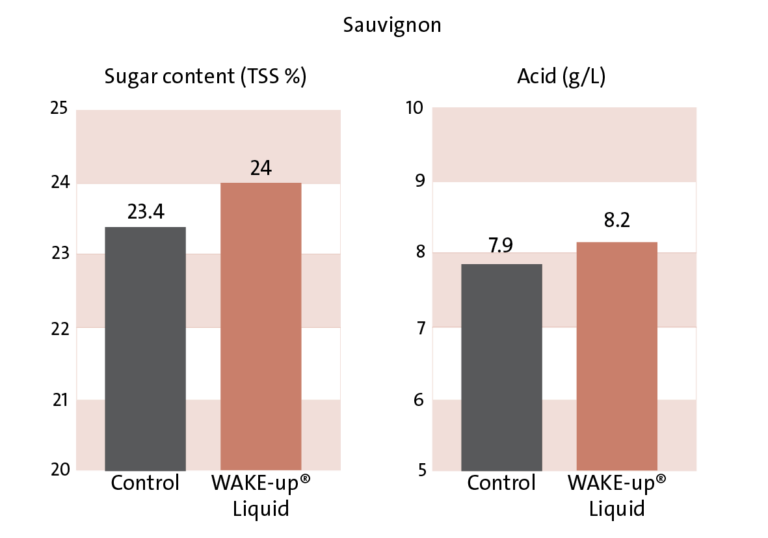 Taste is one of the two attributes of flavor together with aroma. Taste is therefore, after the color, the second quality criteria for fruit consumers and wine amateurs. Growers are aiming to achieve the most appreciated taste for their crops and Iperen WAKE-up® Liquid can help them to achieve their goal. As shown in the graphs, Iperen WAKE-up® Liquid had a significant effect on Sauvignon grapevines hence on the wine by observing the sugar and acidity content significantly improved compared to control.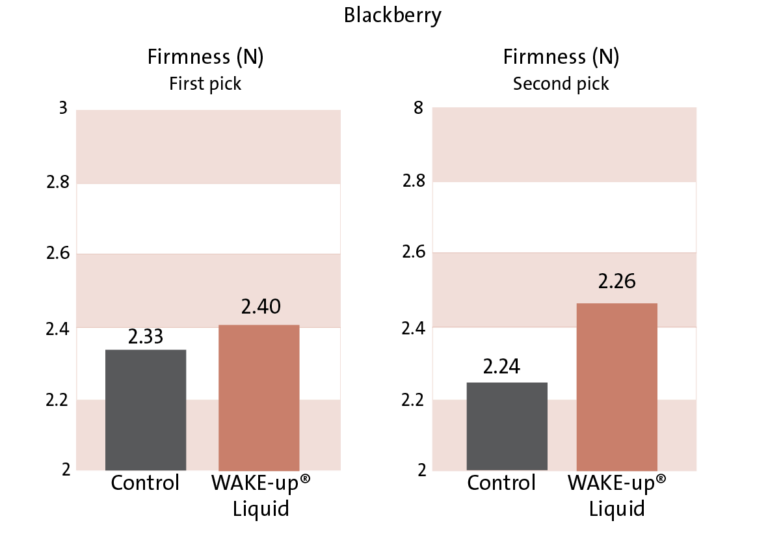 Fruit firmness is one of the texture quality parameters, which makes it an important criteria for the consumers' choice. In addition, a firm fruit also leads to longer shelf-life which is a very important criteria for the grower and the fruit industry players. Therefore high fruit firmness is one of the aims for fruit growers. Iperen WAKE-up® Liquid trials on blackberry resulted in positive impact on fruit firmness as shown in the graphs.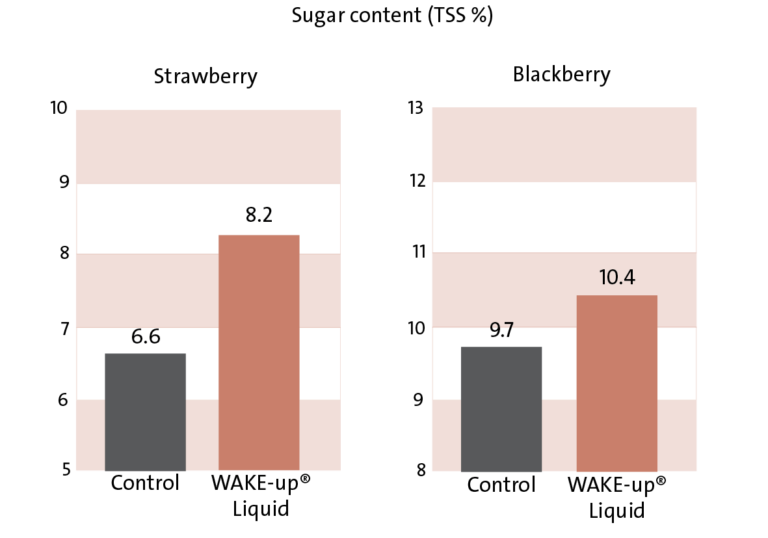 Sugar content is obviously an important quality criteria for both consumer and grower. A high sugar content in the fruit means a higher fruit density and therefore a higher yield. Iperen WAKE-up® Liquid trials have shown significant positive effects of high sugar content as shown in the graphs on Strawberry and Blackberry trials.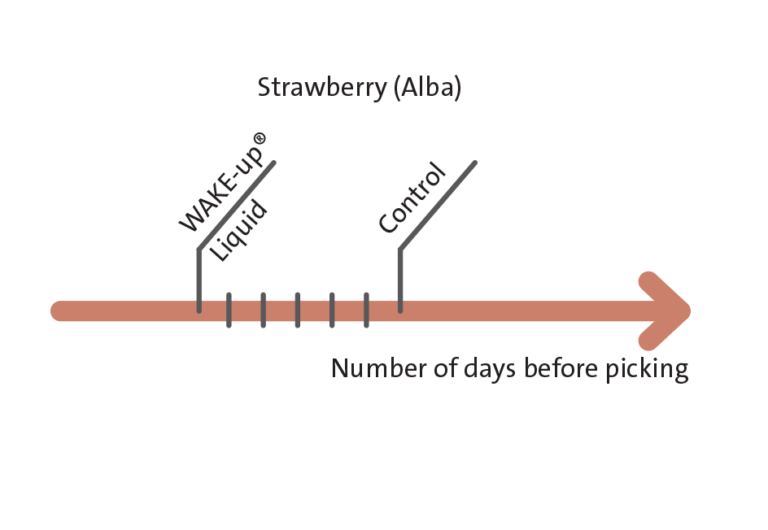 Fruit color, taste, firmness and sugar content combined, lead to an earlier picking. Iperen WAKE-up® Liquid has proven in many trials that it reduces the crop cycle by a quicker fruit ripening, leading to an earlier picking season. For example in the trial results on strawberry the treated plot has been harvested 6 days earlier then the control to achieve the same BBCH stage (BBCH 87 phase) and without compromising on quality. Being the first in the market with high quality crop can really make the difference in terms of profitability.
Interested in more trial results?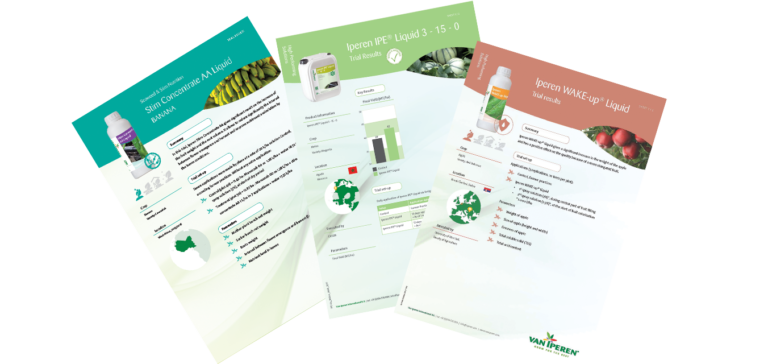 Are you interested to receive some more in-depth trial results on Iperen WAKE-up® Liquid or one of our other High Performing Solutions? Please contact your Van Iperen Sales Manager or send us an email at: info@iperen.com.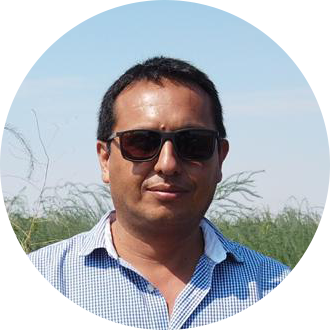 "We find Iperen WAKE-up® Liquid is a success on our table grape through diverse applications in the cycle of the crop, from the transplant until harvest. We notice significant improvement in the quality of the fruit at the end of the crop cycle, resulting in a high quality end product."

Joaquín García

Grower Ica - Peru
Read more partner stories
The quality drink for your crop!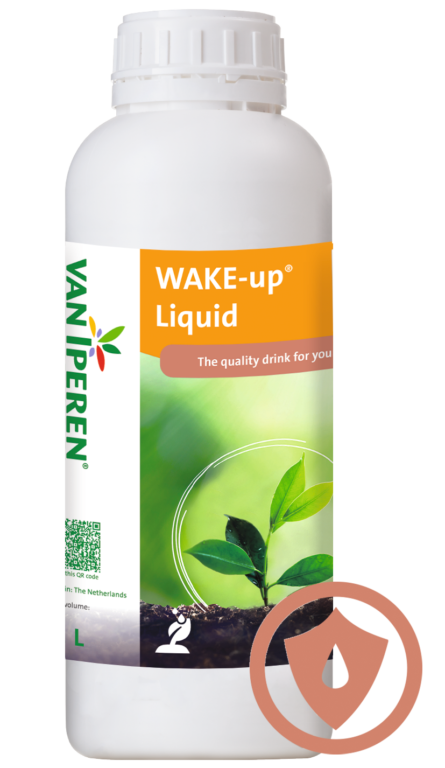 Iperen WAKE-up® Liquid is a unique solution based on organic complex. It increases the natural efficiency of the plant to manage the water uptake by the root system, the translocation through the stem and the main branches and the movement into the fruit. WAKE-up® protects and exploits the full plant potential and provides a top quality harvest for the grower. In other words, one solution as a quality drink.
More about Iperen WAKE-up® Liquid