Agriculture is rapidly changing. Due to the growing world population, more extreme weather conditions and the increasing restrictions in the sector, we need to look for alternative ways to ensure sustainable crop nutrition for the future. In this respect, smarter use of land, of the available and applied nutrients by the crop, and an improved tolerance to stress conditions are important factors.
Where Nutrition meets Biostimulation™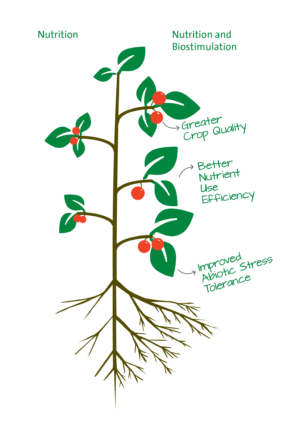 This is why at Van Iperen we focus on products providing the plant with better Nutrient Use Efficiency (NUE), improved Abiotic Stress Tolerance and an overall greater Crop Quality. We believe that combining traditional mineral fertilizers with biostimulants is the future. Therefore, we focus on creating innovative solutions Where Nutrition meets Biostimulation™ for fertigation, foliar and precise soil application.
What are biostimulants?
According to Patrick du Jardin of the University of Liège in Belgium, "A plant biostimulant is any substance or microorganism applied to plants with the aim of enhancing nutrition efficiency, abiotic stress tolerance and/or crop quality traits, regardless of its nutrients content".
Our biostimulants products
We invest in R&D combing our nearly 100 years of experience in nutrition with the opportunities of biostimulants. Our FoliaStim® range with seaweed, our products with Iperen IPE® Technology and our Iperen WAKE-up Liquid are great examples of products combining nutrition and biostimulants.
Our products combining Nutrition and Biostimulation