Since 2018, we've conducted more than 120 scientific and demonstration trials to prove the effectiveness of Plants for Plants® biostimulants in both stress and comfort conditions, and to let the growers experience the product.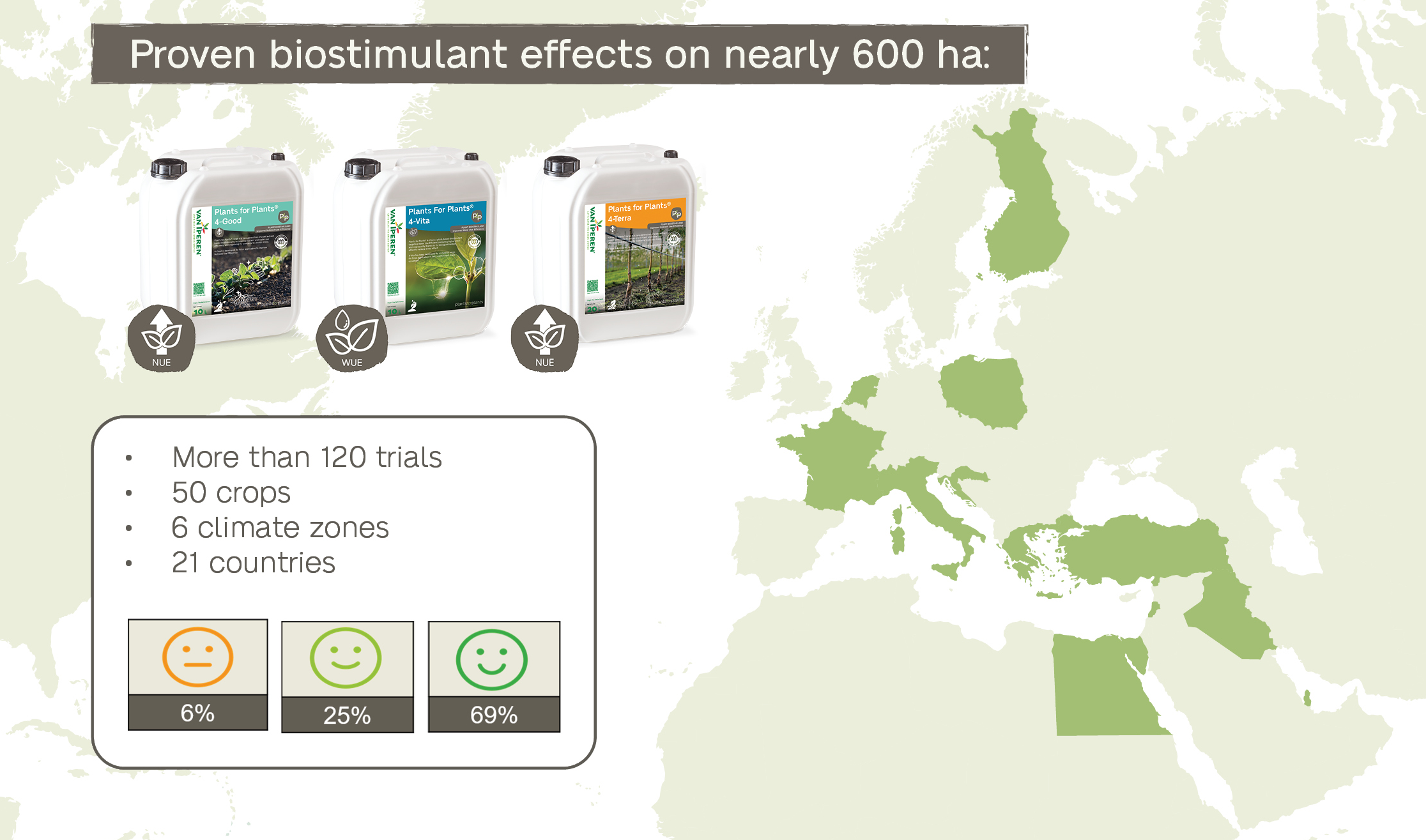 These trials allowed us to get a better understanding of what the plants need in every circumstance, and how we can enhance the crop's performance using Plants for Plants® biostimulants. Now we know exactly how to apply, what is the precise dosage for each crop, and how to position the products. We test three products with different aims:
Thanks to our partners (Arterris in France; Van Iperen B.V. in The Netherlands; LandLab and Terre Emerse in Italy; Kekkila in Finland; Horticentar in Croatia; Agro Hellas and AGK in Greece; and Caldena in Poland), we have executed different trials on a selection of cash crops, arable, vegetables, and fruit trees covering an area of 600 ha. In total, 50 different crops were treated, including corn, potato, wheat, canola, sunflower, sugar beet, barley, melon, tomato, wine grape, strawberry, pear, apple, and apricot.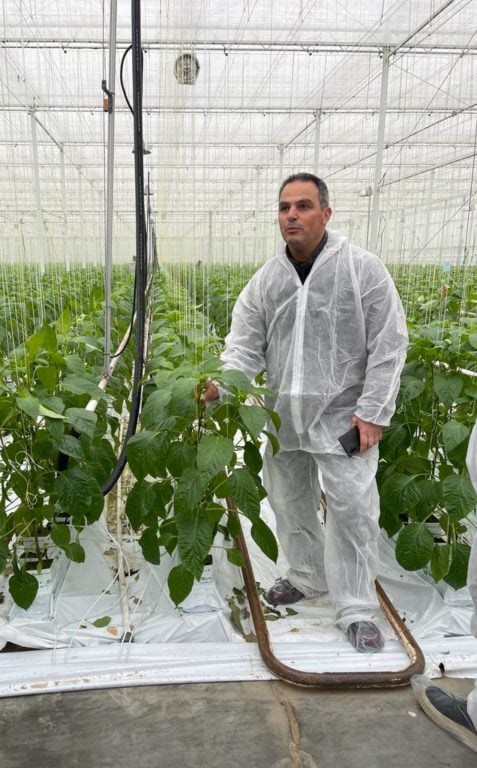 "We have used P4P 4-Terra and 4-Vita extensively in our greenhouses. Although we had high temperatures, a lack of water, and many other problems, the crops overcame the water stress. In both cases, the plants were stronger, with better flowering, fruiting, and overall health. We were able to reduce water and Phosphorus use. The best tip I can give you is to use both biostimulants as I am happy with the results on my tomatoes".

Manthos Antonakis

Tomato grower - Ierapetra (Crete, Greece)
Download all Plants for Plants® trials!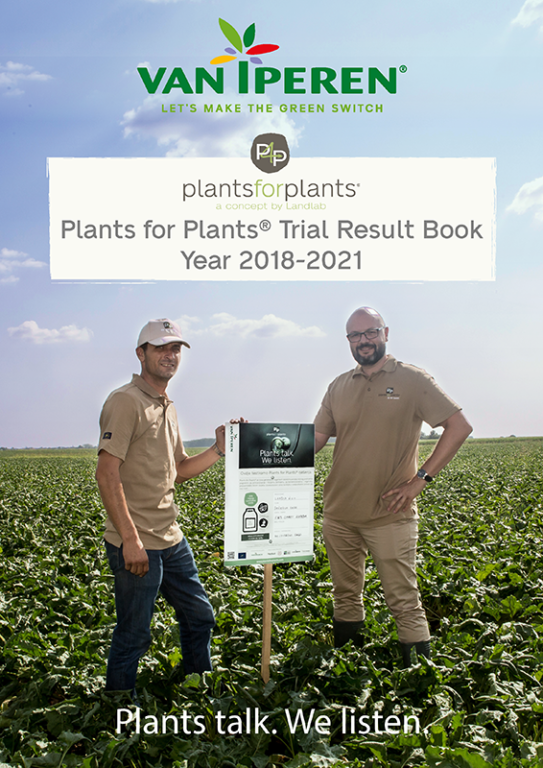 The Trial Result Book Year 2018-2021 gathers all Plants for Plants® trials conducted in all areas and crops with the following results:
Almost 70% of the trials showed positive meaning better quality and quantity.
25% of the trials have shown neutral results meaning that the yield was similar to the control but with less input of water or nutrient.
Finally, 6% of the trials have shown negative impacts after the application of the products.
These results explain the heterogeneity of the plots; it is the perfect illustration of what is happening in reality. Do you want to know more in detail about the performance of one specific crop? The Trial Result Book Year 2018-2021 unveils all relevant information about each trial and concrete results per crop and type of Plants for Plants® solution tested.
Download the P4P Trial Result Book now!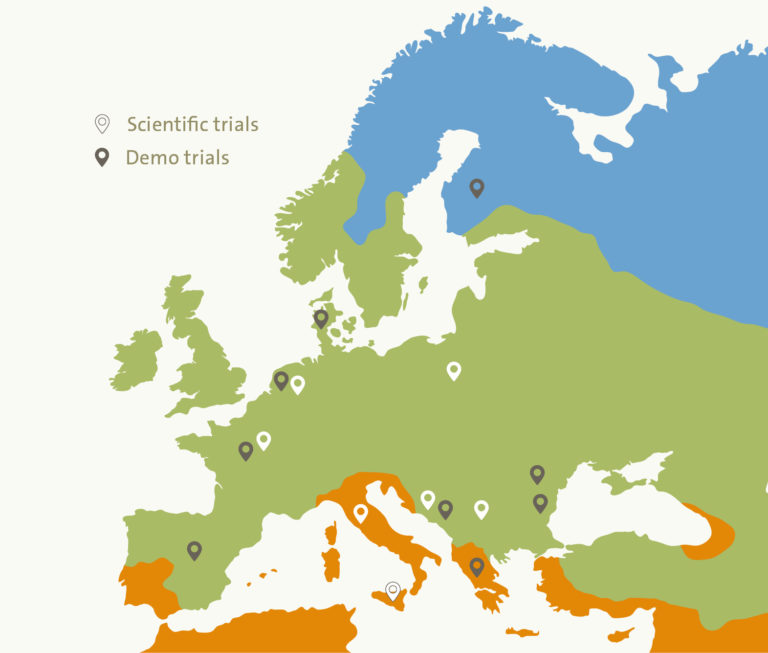 In the frame of the EU-founded LIFE Project, we've tested the Plants for Plants® prototypes using two different approaches:
Scientific trials (B4): we've performed scientific trials in distinct climatic zones all around Europe on a large number of crops. Using this approach, we've measured the efficiency of the Plants for Plants solutions under certain conditions and in different locations.
Demo trials (B5): thanks to the knowledge acquired during the scientific trials, we've proved the performance of the P4P products to growers all over the world with demo trials on a selection of crops.
Testimonial Video of Plants for Plants® Grower in The Netherlands