In the last 5 years, we've conducted more than 120 scientific and demonstration trials to prove the effect of the product in both stress and comfort conditions, and to let the growers experience the product.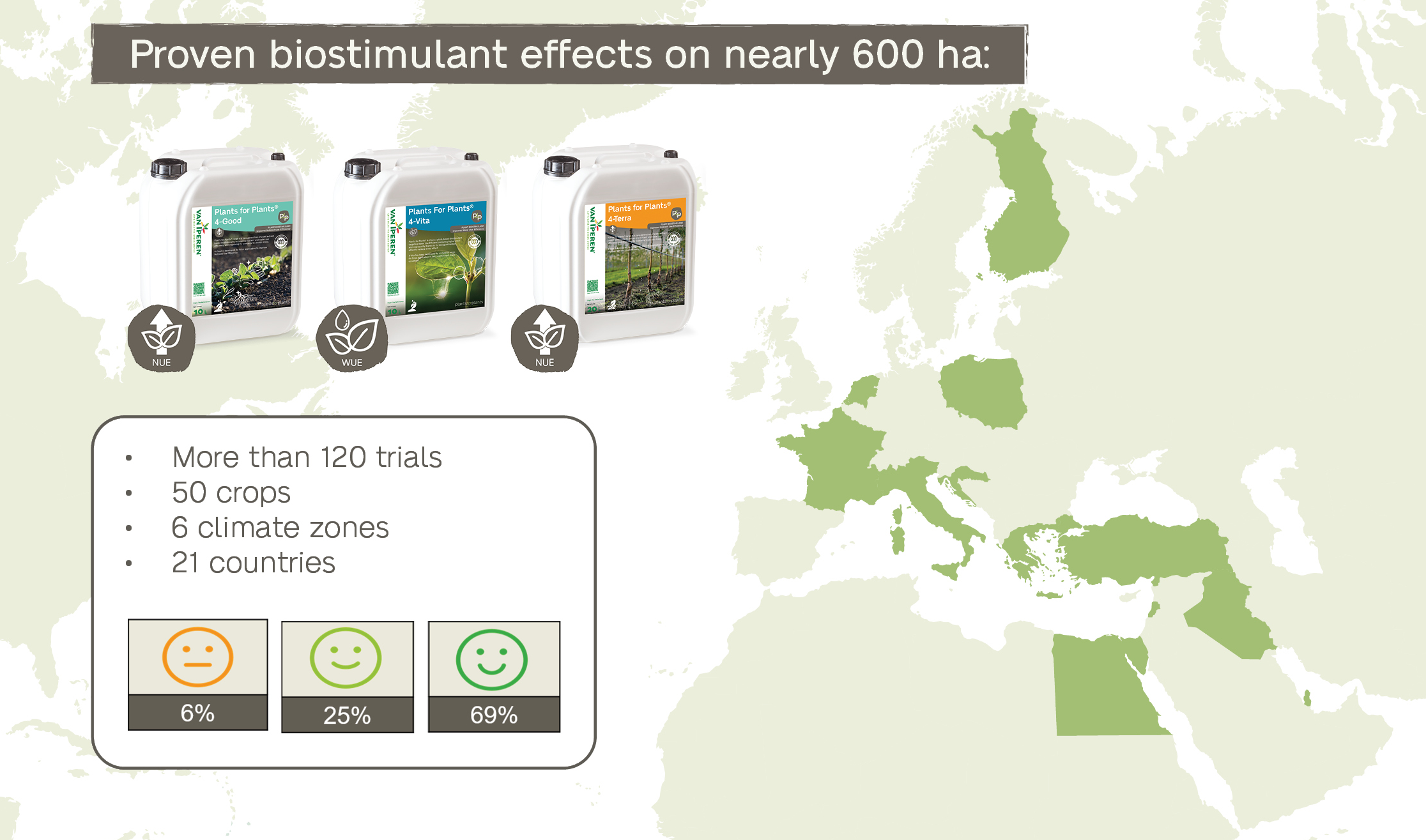 We test three products with different aims: PlantsforPlants®4-Vita foliar applied to increase Water Use Efficiency (WUE), PlantsforPlants® 4-Good foliar applied to increase Nutrient Use Efficiency (NUE), and PlantsforPlants®4-Terra soil-applied to increase Nutrient Use Efficiency (NUE). The results so far have the following trend:
Thanks to the trials, we get a better understanding of what the plants need in every circumstance, and how we can enhance the crop's performance using Plants for Plants®. Now we know exactly how to apply, what is the precise dosage for each crop, and how to position the products.
Plants for Plants® trials - 2019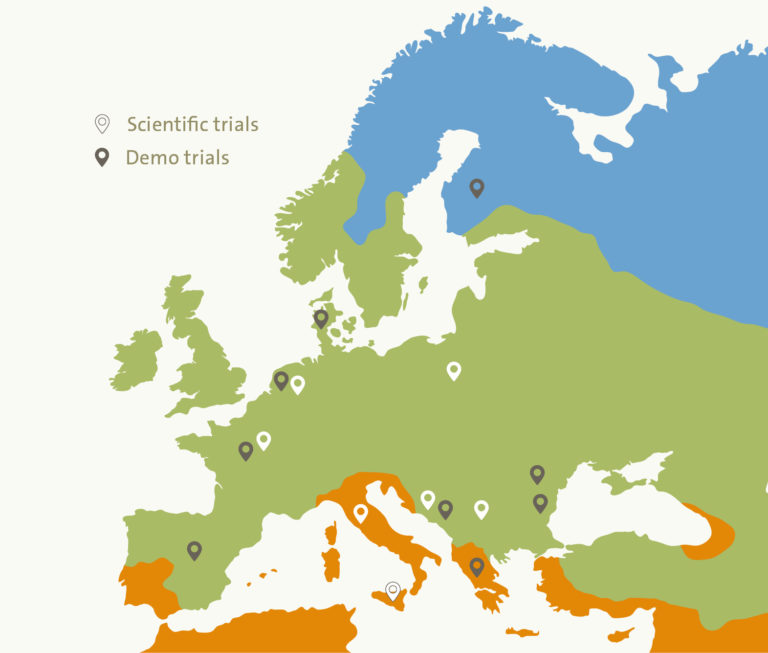 In 2019, in the frame of the EU founded LIFE Project, we tested the Plants for Plants® prototypes in three climatic zones all around Europe (B4 trials).
We performed trials in different countries on different crops, like strawberries, apples, potatoes, sugarbeets, tomatoes, grapes, etc. Using this approach, we measured the efficiency of the Plants for Plants solutions under certain conditions and in different locations.
We traveled to The Netherlands, France, Croatia, Poland, and Italy (Veneto and Sicily), for a total of 28 travels and 608 hours of journey! In all these countries we were welcomed by very willing and interested farmers, that helped us with their time and observations.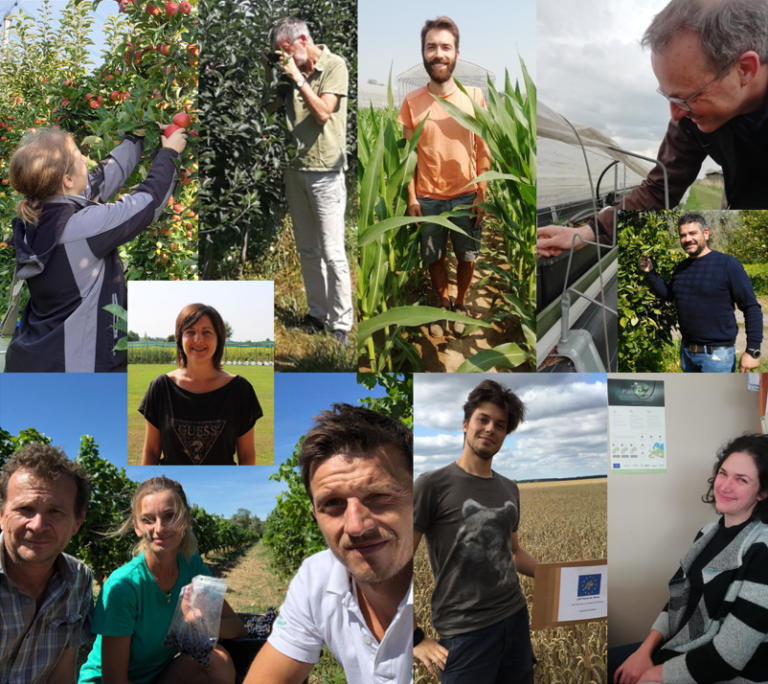 Some trials results were excellent, as in sugar beet where there was a terrific increase in yield and sugar content of tomatoes, where -30% of water was achieved without dramatically change the yield, and overall very good results were obtained in the majority of the crops, with a saving of water, phosphorus, and fungicides. A lot of people were involved in this part of the project both from Landlab and Van Iperen International.
Some trials were performed by external subcontractors, under Landlab supervision: The Faculty of Agrobiotechnology in Osijek and Rusthoeve in the Netherland.
All these trials will be repeated again in 2020, and on a bigger scale, with the help of many distributors and farmers, in 11 countries in the B5 trials.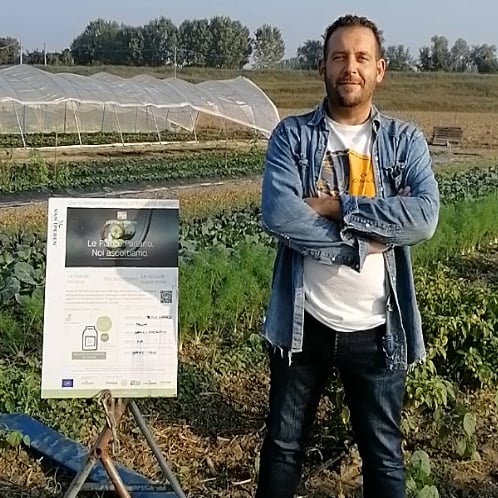 "I was really interested in the fact that Plants for Plants4-Terra can help the plants to better uptake the phosphorus from the soil. The trials performed were really fruitful and effective, the number of melons that ripened early was impressive comparing to conventional fertilization, which resulted in early harvest and higher profit."

Davide Talassi

Melon Grower - Italy
Plants for Plants® demo trials - 2020
Despite the challenges met in 2020, we managed to continue the field trials and release the initial results of the Plants for Plants® demo trials. The test area of the European pilot have been 220 hectares in 2020; 40 hectares of which were treated with the new biostimulants.
We executed 29 trials in 8 European countries on a selection of cash crops, arable, and fruit trees. In total, 14 different crops were treated, including corn, potato, wheat, canola, sunflower, sugar beet, barley, melon, tomato, wine grape, strawberry, pear, apple, and apricot.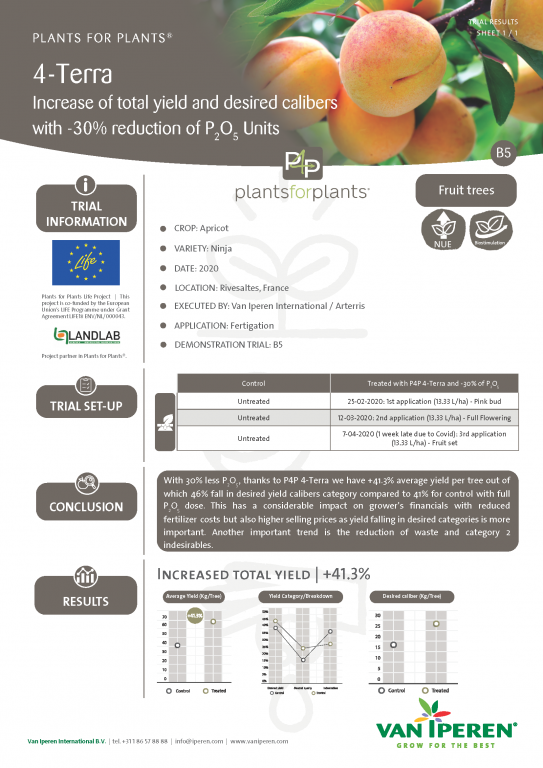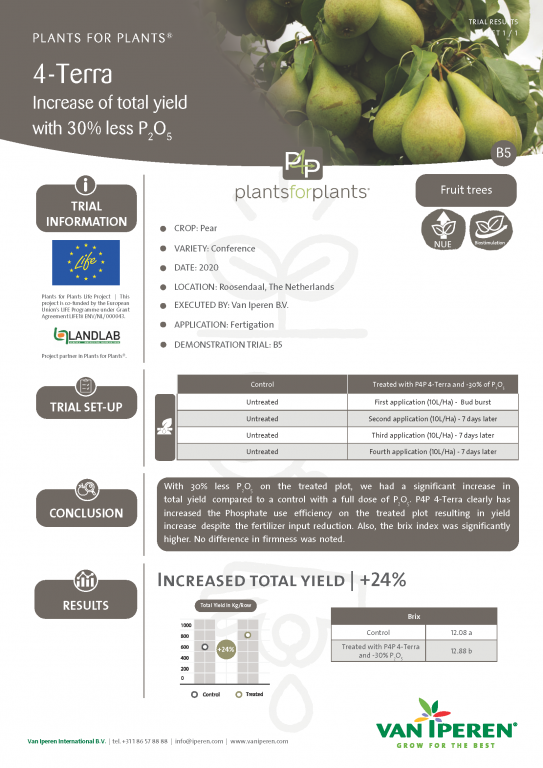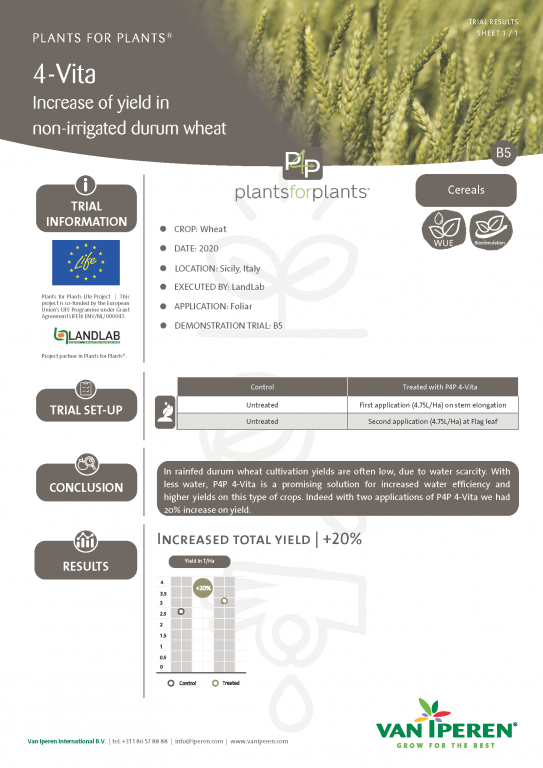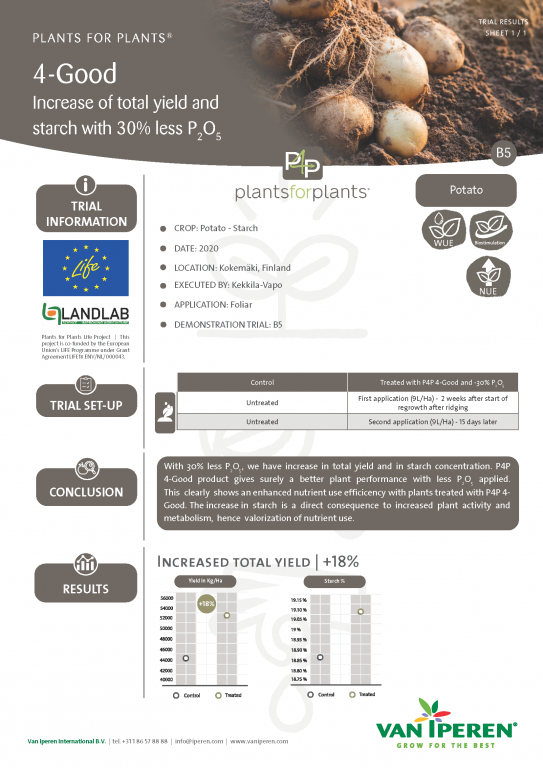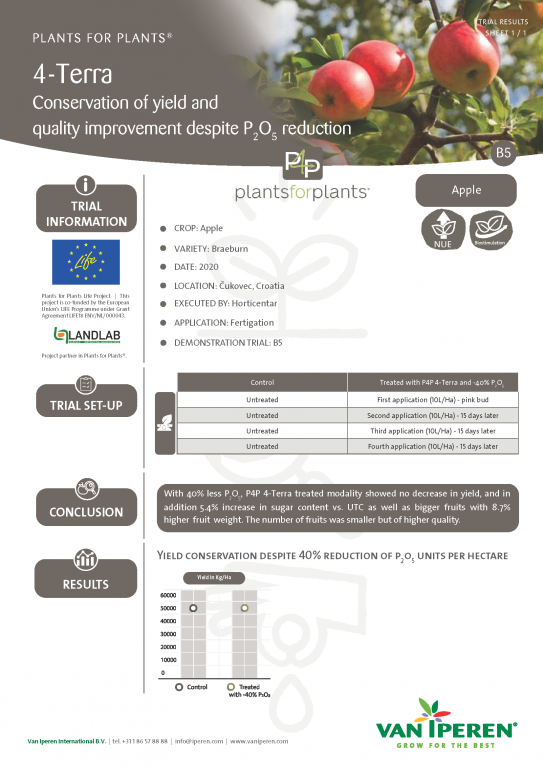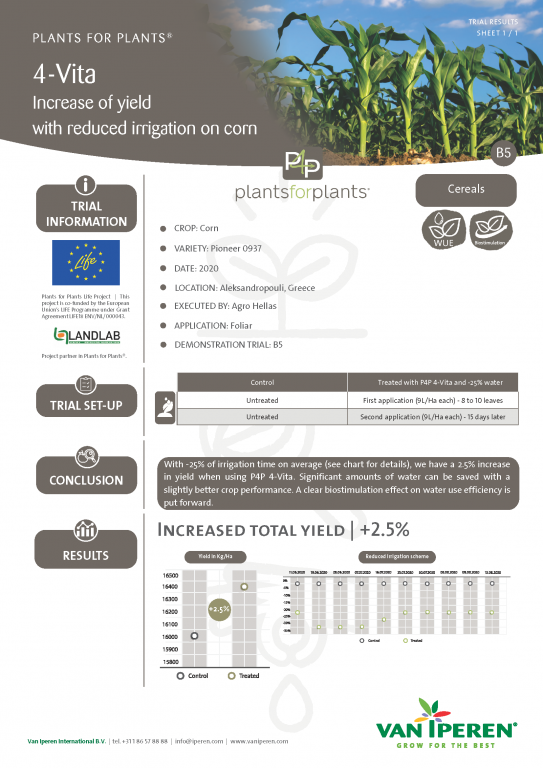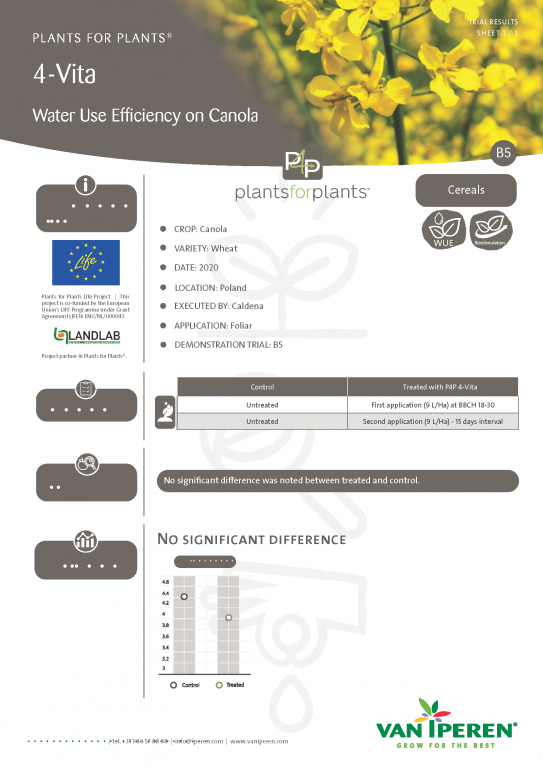 Plants for Plants® demo trials - 2021
One of our goals for the 2021 trial campaign has been to increase the number of trials and crops to test. And finally, we accomplished this goal! Together with our partners, we've executed 95 demo trials (70 on LL002, 19 on LL004, and 6 on LL017). The 2021 trial campaign has allowed growers from 17 European countries to test P4P products on 30 different crops.
On a total of 414 ha, good results have been achieved in more than 60% of the trials. For 56% of trials, results were clearly positive, while no effect or lower produce has been observed only in 4% of trials. Do you want to know more in detail about the performance of one specific crop? Download the trial leaflets below!
Testimonial video of Plants for Plants® grower in The Netherlands