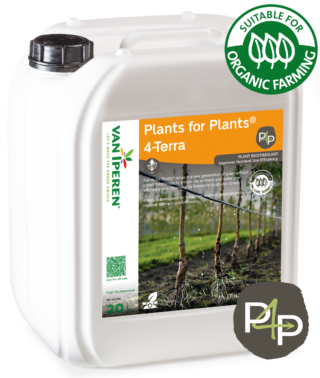 Van Iperen Plants for Plants® 4-Terra is part of the new generation of plant-based Biostimulants developed for a more sustainable agriculture. 4-Terra has shown a dual action on improving the Nutrient Use Efficiency (NUE) of the crop, by activating key genes in the plant and soil microflora, making it a unique solution. 4-Terra has been developed for all fertigated crops regardless of growing conditions. Applied during the early stages of the crop cycle, 4-Terra will improve crop establishment by ensuring better nutrient uptake throughout the cycle, resulting in higher yields and crop quality.
Fully controlled complete process from plant material to final product
Improved NUE, guaranteeing higher yield and harvest quality
Safe for users, consumer and for the environment
Usable in organic farming in application of the Regulation (EU) 2018/848
Developed for fertigation and soil application
100% natural, dark red liquid
Patented production process
Optimal shelf-life is 16 months when product is stored at max 25°C if kept sealed in original container
Easy to handle and apply
Fertigation
| Crop | Application date | Max L/ha/season |
| --- | --- | --- |
| Fruit trees and Vineyards | • Split over at least 3 to 4 times during fertigation program from early start until fruit set stage | 16 |
| Vegetables | • Split over at least 3 to 4 times during fertigation program from start until early production phase | 16 |
Mode of action

Genomic and metabolomic techniques and analyzes have identified a clear mode of action for 4-Terra. On the one hand, 4-Terra improves assimilation phosphates through activation of the PHT2;1 gene, a transporter of chloroplast phosphate, and on the other hand, we measured a significant increase in the microbial population allowing the solubilization of P in the soil (microbiome effect).
Preparing your downloads, please wait...
Compatible with most water-soluble fertilizers
Fertilizing Knowledge
Mode of Action (MOA)
10 years of scientific research have made it possible to describe the specific mode of action of the Plants for Plants® products.
Find out more