Van Iperen International brings its crop knowledge and in-field expertise together to create a dedicated nutrition program for arable crops based on the Essentials range.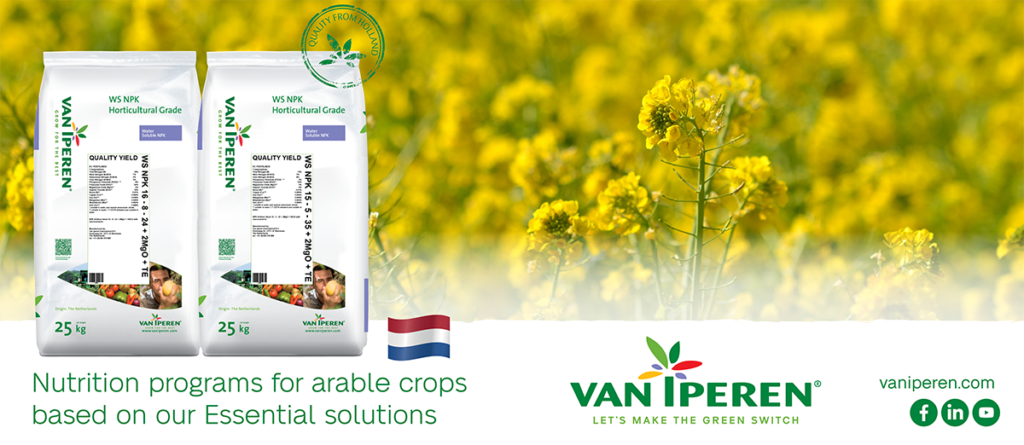 In spring, arable crops demand the key nutrients to cope with the rapid growth and development. Taking into consideration these needs, our Agronomy Team has developed a reliable nutrition program for cereals and canola based on our Water Soluble NPK + Trace Elements range. This program focus on two aspects: the nutrient availability for the crop and the optimization of nutrient uptake.
Cereals (wheat, barley, etc)
WS NPK 16 – 8 – 24 + 2MgO + TE contains a balanced NK formula that increases plant drought resistance and improves cereal filling. It's part of our Quality Yield line and includes micronutrients 100% chelated and fully available. Our recommendation:
BBCH 41 – 59: Booting – Heating 

Dosage: 2 – 3 kg/ha/application (maximum concentration 1%) 
Canola
WS NPK 15 – 5 – 35 + 2MgO + TE is part our Quality Yield line. This solution, containing a high Potassium formula, helps crops to achieve higher quality yields by improving the grain filling. In addition to the central role of Potassium in ensuring enhanced grain quality, it also plays an important role, in general, in enhancing plant health and drought resistance. This is our proposition:
BBCH 51 – 65: Inflorescence emergence – Flowering 

Dosage: 2 – 3 kg/ha/application (maximum concentration 1%) 
Do you want to know more about our nutrition programs for arable crops? You can take a look at foliar fertilization programs for arable crops (High Performing Solutions). Get in touch with us for more information!