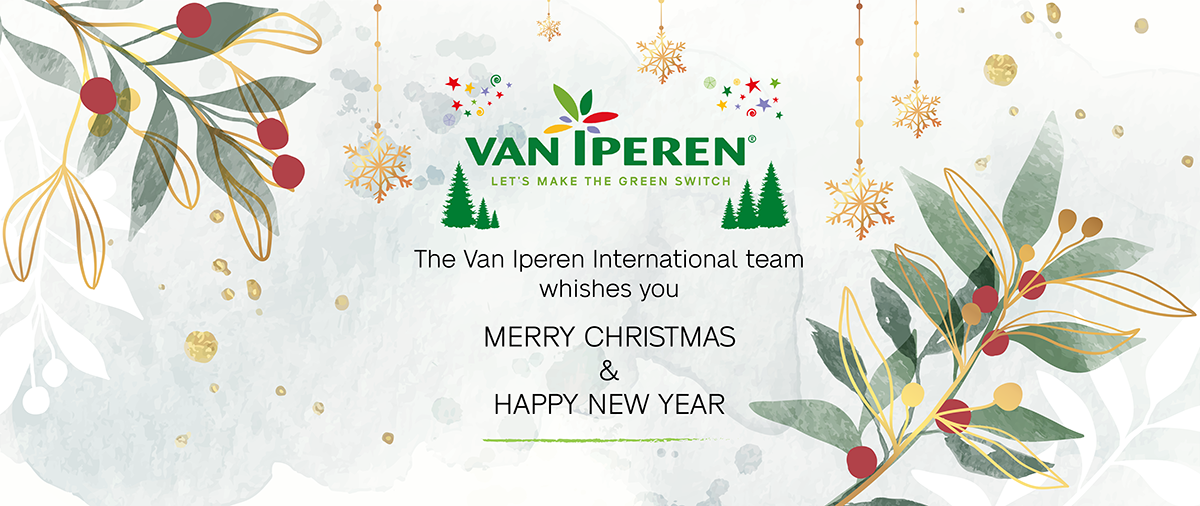 It's festive season and time to "catch up" with people you may not have seen for a while. And as another year draws to its close, we want to offer our holiday wishes and reflections on what we have done together over 2021.
At Van Iperen International, we are continuing to change the rules of the game in plant nutrition with innovative solutions for a more sustainable agriculture. And what better way to build a more resilient agriculture with new cross-sector alliances? This is the case of GreenSwitch® Original HG –the first liquid nitrate fertilizer from an organic source- and our upcoming GreenSwitch® SOP -our sustainable potassium sulfate (SOP)-, both with a close to zero carbon footprint.
In 2022, we will introduce the plant-based biostimulants, Plants for Plants®, to target Nutrient Use Efficiency (NUE) and Water Use Efficiency (WUE). What makes it unique? Plants for Plants® is one of the first fully controlled product range with proven and consistent biostimulation effects in the lab and on the field. The active ingredients come from cultivated crops, so there's no exhaustion of natural resources. And it's 100% natural, suitable for Organic and Conventional Agriculture.
We are confident to continue our path, keep on growing together with our partners, and expand the Van Iperen family. Our most heartfelt thanks to each and every one member of this family, we could not do it without you.
Our energy and enthusiasm will remain as we continue to be the expert that you can rely on to make the green switch, support your growers and their crop performance.
The Van Iperen International team wishes you a very Merry Christmas and a healthy, happy, and fulfilling year in 2022.