Van Iperen International introduces the widest range of Specialty fertilizers and Biostimulants in the United States. Our product range consists of Essentials -a range of fundamental purely mineral water soluble and liquid fertilizers- and High Performing Solutions (HPS) -a range of innovative fertilizers focused on Nutrition and Biostimulation.
Innovative solutions for nowadays agricultural challenges
More than ever, agriculture demands fast-acting answers. And growers from the United States call for real solutions that help to optimize plant nutrition and maximize crop yield while adapting to changing circumstances. But how to do it? We listen and deliver. Van Iperen International takes innovation to the next level with innovative solutions for all kinds of crops and applications. Our offer includes the widest range of Specialty Fertilizers and Biostimulants for fertigation and foliar application in the United States.
We provide the grower with essential nutrients to feed their plants and reliable and sustainable solutions for better Nutrient Use Efficiency (NUE) and Water Use Efficiency (WUE), improved Abiotic Stress Tolerance, and greater Crop Quality. In this way, you can choose the solution that best suits your crop needs.
*Please, note that the names of products and their availability may vary depending on the registration in some states or countries. For more info, contact your Sales Manager.
High Performing Solutions (HPS)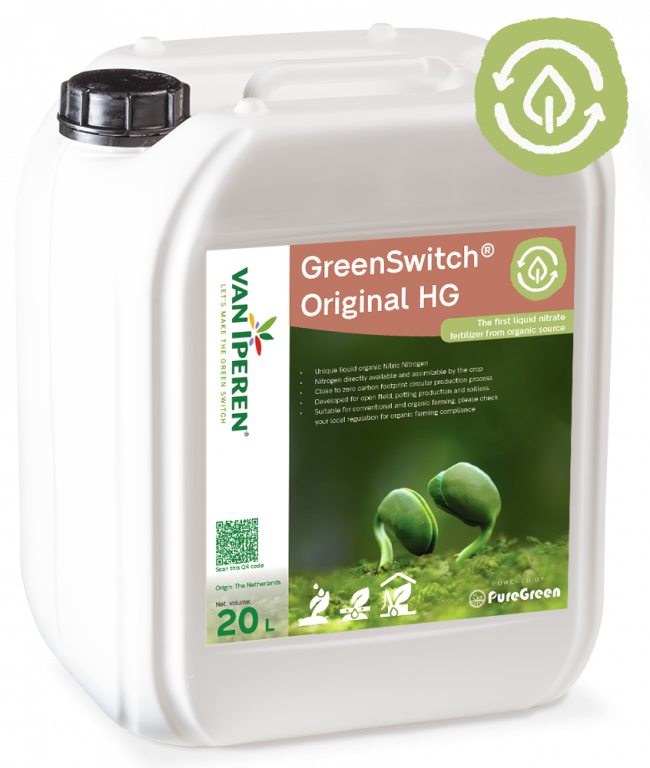 GreenSwitch® Original HG is one of our latest innovative solutions, and what innovation! GreenSwitch® Original HG is a unique, pure, and transparent Nitric Nitrogen and Potassium solution. Our product is stable and recommended at different phenological stages.
Based on Pure Green Agriculture technology, this 2 - 0 - 7 formulation offers a sustainable alternative for mineral Nitrate formulations -like Potassium Nitrate or liquid equivalents- to the conscious grower with a close to zero carbon footprint circular patented production process.
Unique liquid organic Nitric Nitrogen (Nitrate)
Nitrogen directly available and assimilable by the crop
Developed for open field, pot production, and soilless application
Circular economy
Discover now!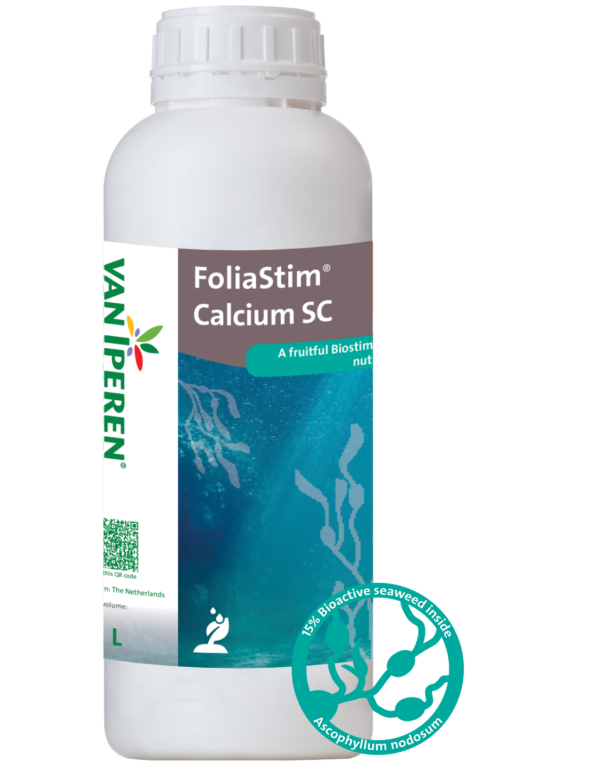 Discover our new solution to tackle Ca-related disorders! FoliaStim® Calcium SC is a real innovation in the world of foliar Calcium solutions. Why? FoliaStim® Calcium SC is formulated with seaweed (Ascophyllum nodosum from Canada) and Calcium carbonate.
The use of this product results in enhanced tolerance to abiotic stress during critical stages as well as an improved effect against Calcium related physiological disorders.
Synergistic effect between seaweed and nutrients
Helps fight against Calcium related physiological disorders such as bitter pit, blossom end rot, fruit cracking, tip burn, and others
Increases fruit firmness and shelf life
Discover now!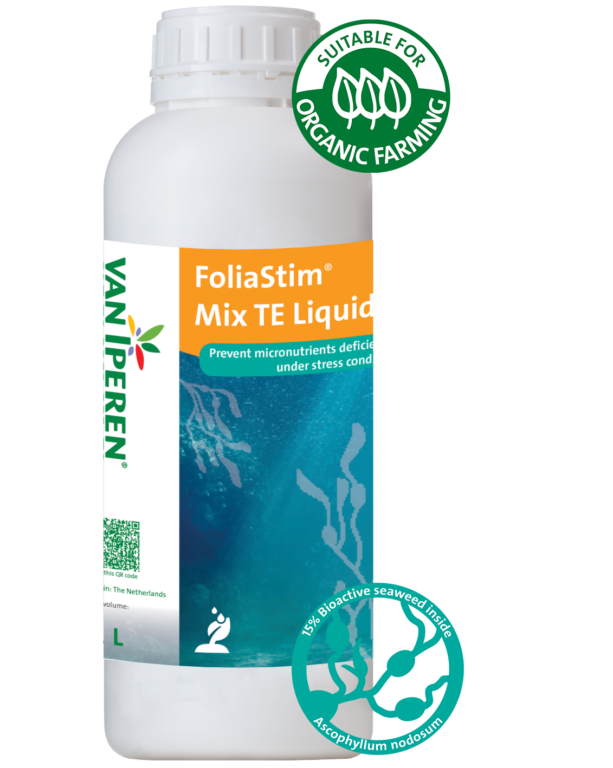 FoliaStim® Mix TE is also part of our Algae Solution range. This is a pure and highly concentrated liquid Micronutrient fertilizer, formulated with seaweed (Ascophyllum nodosum from Canada), mineral nutrients, and EDTA chelates.
Our product is a stable solution and is recommended to improve plant vitality and production. Ideal for preventing micronutrient deficiencies, especially during intensive growth and production phases. FoliaStim® Mix TE supports the uptake and the transportation of nutrients and increases resistance against abiotic stress.
Overcomes general Micronutrient defiencies
Increases resistance to abiotic stress during critical physiological stages
Micronutrients 100% chelated and fully available
Discover now!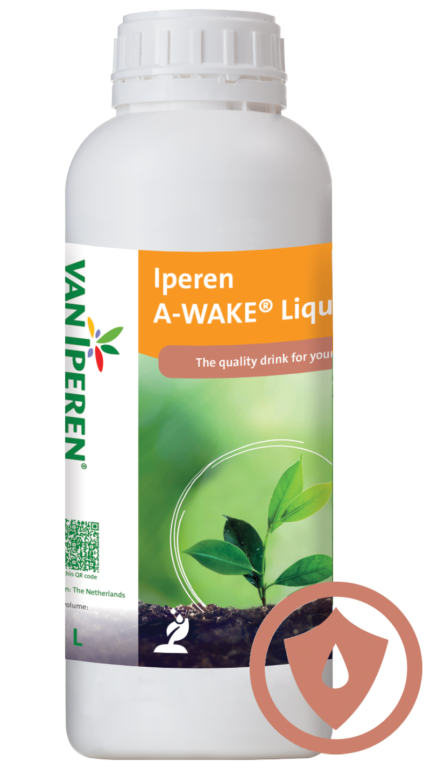 A-WAKE® Liquid is a quality drink for your crop! This solution enhances crop performance by improving Water Use Efficiency (WUE) and Crop Quality.
Thanks to the potassium carboxylates in the formula, A-WAKE® Liquid increases plant tolerance to drought and heat and improves the water balance status in the plant.
Neutralizes the molecules responsible of cell damage during drought and heat stress
Enhances fruit coloration
Induces additional sugar formation and translocation
Ensures higher fruit firmness
Note: Global tradename WAKE-up® Liquid; US  tradename A-WAKE® Liquid
Download the leaflet!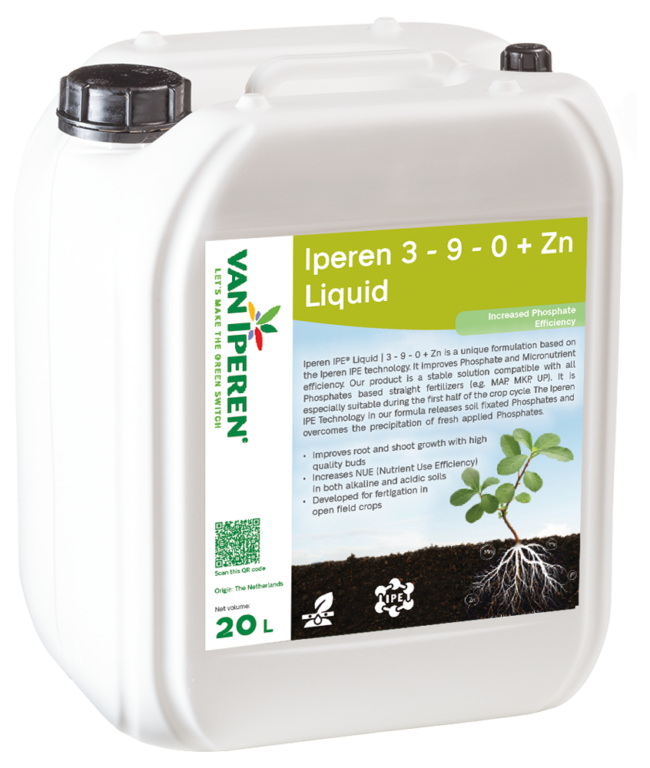 Iperen Liquid 3-9-0+Zn is a pure and concentrated liquid NPK with a high level of Phosphate. Our product is a stable solution compatible with all Phosphates based straight fertilizers (e.g. MAP, MKP, UP). It is especially suitable during the first half of the crop cycle. Produced in our own plant Euroliquids.
Improves root and shoot growth with high-quality buds
Developed for fertigation in open field crops
Low on Sodium and Chloride
Production process certified according to ISO 9001:2015
Download the leaflet!
Essentials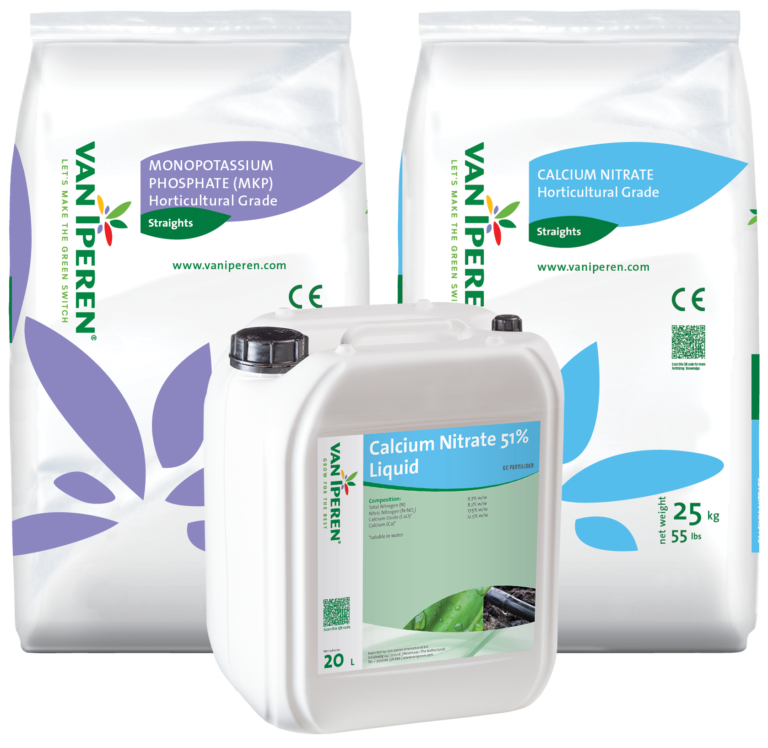 Our range of Straights includes fertilizers in solid and liquid form. With more than 15 different formulations, we offer Calcium, Magnesium, Nitrogen, Phosphate, and Potassium products. Our Straight fertilizers follow a strict selection procedure of raw material based on:
Pure raw material (no insoluble)
High solubility
Fast dissolution
Free-flowing
Moisture
Discover now!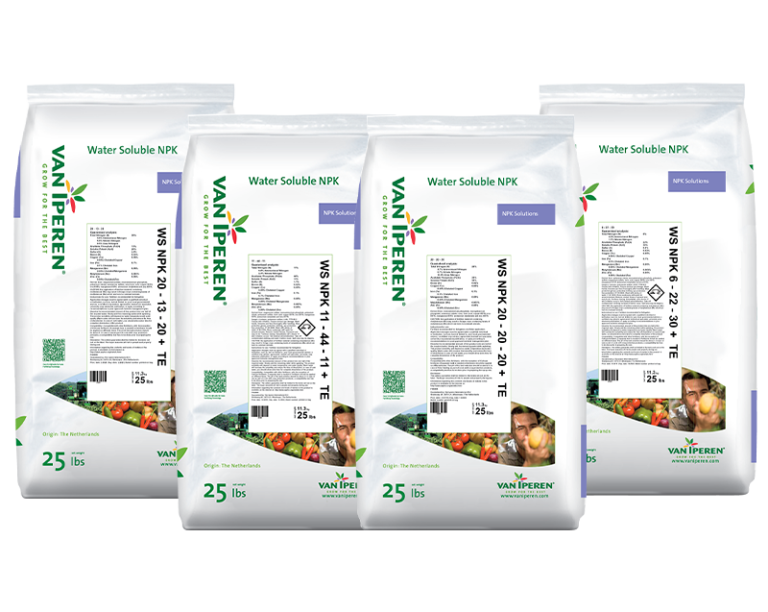 Produced at our sister company, TTD, our NPK Solutions are available in water-soluble form, and in multiple colors to customize. Formulations of soluble NPK meet standards of high-quality products with different NPK ratios for the US and Canadian markets. Raw materials included in our formulas follow a strict entrance control following the list of Iperen Standards:
Low levels of heavy metals
Top-quality, free-flowing
TE fully chelated
Highly soluble
High nutrition content
No undesired salts
Download product overview now!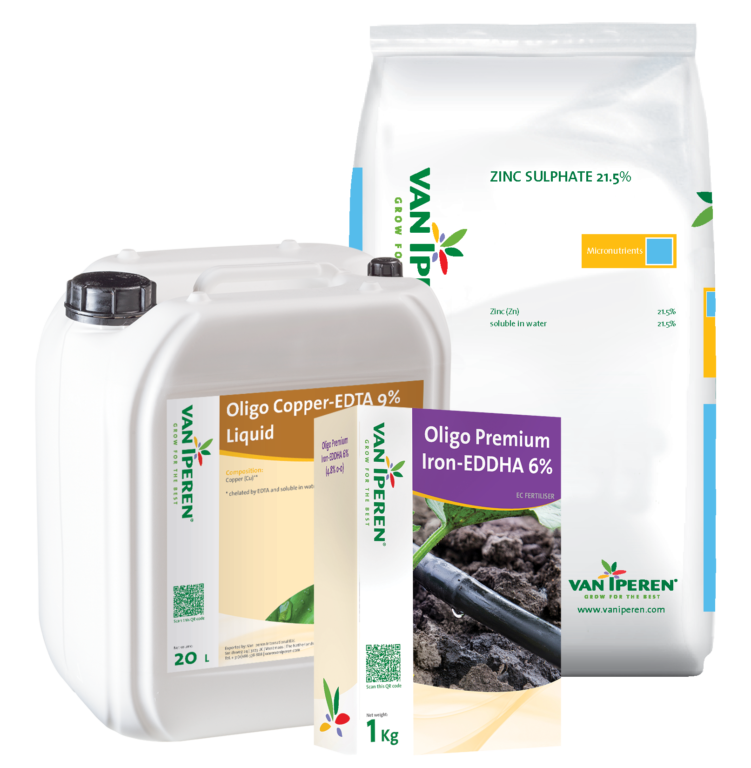 Within our portfolio, we offer a full range of chelated and non-chelated Micronutrients in solid and liquid form. Our collaboration with our Micronutrients partners leads to new production methods and innovative product solutions of higher quality. They have extensive lab services enabling us to offer top quality Micronutrients:
HBED: prevent Iron Efficiency with a long-lasting effect in a pH up to 12 in fertigation
EDDHA: prevent Iron Efficiency in a pH up to 9 for fertigation and soil injection
IDHA: fully biodegradable Chelate for foliar application
EDTA: a range of chelated single micronutrients of high purity for foliar and fertigation.
DTPA: a range of 100% chelated and fully available Micronutrients developed for soilless grown crops
Discover now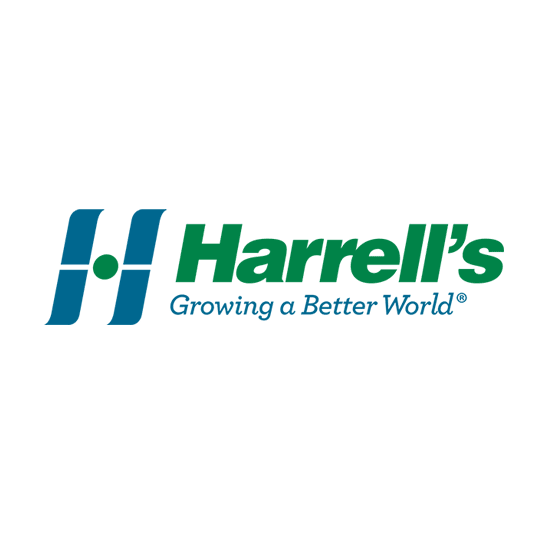 "We pride ourselves on quality products, quality people, and quality suppliers. Our main driving product, POLYON, is the best controlled-release fertilizer on the market. Vertical integration is key to Harrell's success, and this is why our partnership with Van Ipren has complemented our portfolio of products. The quality of Harrell's branded water-soluble fertilizer manufactured by Van Ipren has exceeded our expectations on quality and results in the horticulture and turf industry. We hope our relationship with Van Ipren continues to grow through reliable, consistent products and innovation."

Scott Martiniere

Vice President of Sales for Harrell's Horticulture division
Meet our team in the US and Canada
Established in 2010, Van Iperen International started out as part of the Van Iperen Group, a 100-year-old family business in the fertilizer industry. From the very beginning, we aimed to change agriculture for the better, having the grower at the center of everything we do. How do we do so? With full-capacity human teams in every part of the process and crop specialists for all relevant crops and conditions worldwide.
Proof of that is our dedicated team in the United States. Our Sales Managers, Richard Morris and Gabrielle Schoemaker, work together with local partners and operate close to our clients in order to share all knowledge on fertilizers and know-how on logistics, registrations, and marketing.
Email us!
Note that you will download our general Product Catalogue. To know the list of Specialty fertilizers and Biostimulants available in the United States, get in touch with your Sales Manager.