Van Iperen International is proud to announce that the renowned certification body Ecocert has officially certified the following products: Plants For Plants® 4-Good, Plants for Plants® 4-Terra, and Plants for Plants® 4-Vita.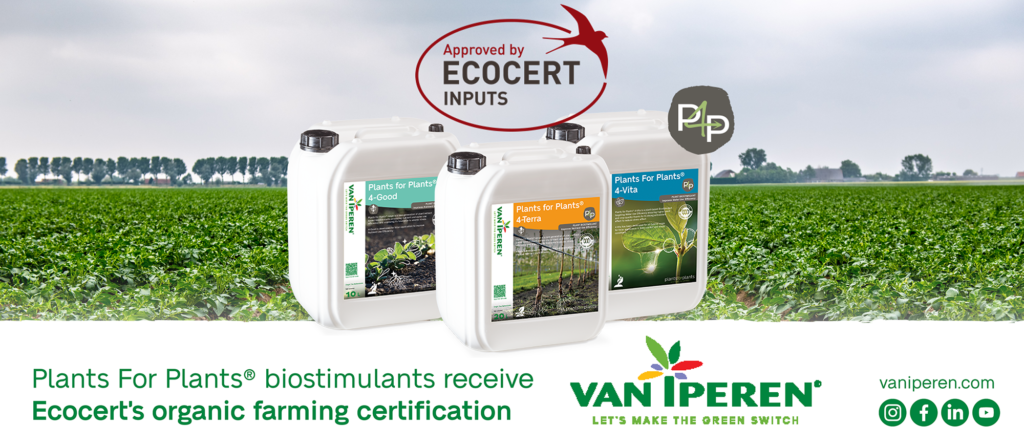 Our plant-based biostimulants, known as Plants for Plants®, have obtained Ecocert's certification as organic farming products. This range comprises Plants for Plants® 4-Good, 4-Vita, and 4-Terra, meticulously formulated to improve Water Use Efficiency (WUE), maximize nutrient uptake (NUE), and strengthen plants' resilience to drought-induced stress. Ecocert certification acknowledges that these three biostimulants are suitable for organic farming. Also, it demonstrates compliance with rigorous ecological standards, ensuring their contribution to a more sustainable agricultural practices.
This last certification further complements Plants for Plants' previous achievement of winning the European LIFE Award 23 in the environment category, solidifying our dedication to developing innovative and sustainable solutions. By receiving the Ecocert seal of approval, Plants for Plants® biostimulants are acknowledged for their natural and environmentally friendly composition, further reinforcing their value to conscientious growers.
Ecocert's certification is a trusted and globally recognized standard, assuring growers that our products meet strict criteria for organic farming and sustainable practices. It reinforces our commitment to offering high-quality solutions that promote sustainable agriculture balance while supporting the growth and vitality of crops responsibly. With Ecocert's endorsement, we are excited to continue delivering innovative solutions to make conventional agriculture more sustainable.