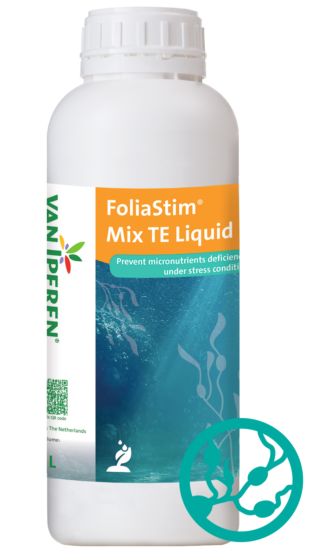 Van Iperen FoliaStim® Mix TE Liquid is a highly concentrated liquid Micronutrient fertilizer, formulated with seaweed (Ascophyllum nodosum from Canada), mineral nutrients and EDTA chelates. The use of this product improves plant vitality and production. Ideal for preventing micronutrient deficiencies especially during intensive growth and production phases and supports the uptake and the transportation of nutrients and increases resistance against abiotic stress.
Overcomes general Micronutrient defiencies
Increases resistance to abiotic stress during critical physiological stages
Micronutrients 100% chelated and fully available
Contact:
Richard Morris
International Sales Manager North America based in the US
Developed for foliar application
Contain high quality Canadian seaweed
Highly concentrated solution
Soft for leaf tissue
Black liquid
Production process certified according to ISO 9001:2015
Produced in our own plant Euroliquids.
Processing of seaweed according to unique method, guaranteeing optimal effect
Preparing your downloads, please wait...
Compatible with other fertilizers, with the exception of Calcium fertilizers. Therefore a separate tank is needed or fertilizers should be applied on different times. The pH of the tank solution should be above 4.