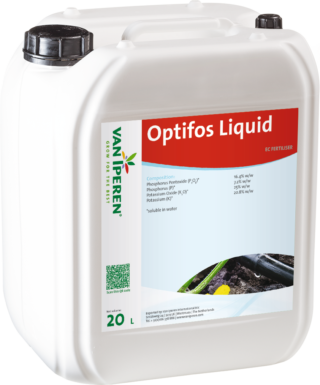 Van Iperen Optifos Liquid is a pure and highly concentrated Phosphate product where Phosphate is available as a mixture of different polyphosphates (chains of ortho-phosphates). Our product is a transparent, stable solution and is recommended throughout the growing season. Especially during periods of intensive growth and when the pH in the irrigation system tends to increase. The high level of specific Polyphosphates in our formula increases plant available Phosphate and prevents anorganic pollution of the dripping systems and therewith clogged drippers. Produced in our own plant Euroliquids.
Keeps irrigation systems clean from anorganic pollution
Improves root and shoot growth
Developed for fertigation in greenhouses
Dutch Origin
Highly concentrated solution
Low on Sodium and Chloride
Transparent liquid
Production process certified according to ISO 9001:2015
Easy to handle and apply
Preparing your downloads, please wait...
Compatible with other fertilizers, with the exception of Calcium fertilizers. Therefore a separate tank is needed or fertilizers should be applied on different times.
Fertilizing Knowledge
We produce innovative Liquid fertilizers
Our sister company Euroliquids, conveniently located in the port of Rotterdam, is the largest liquid fertilizer factory in Northern Europe. This is where we produce our high quality liquid fertilizers and work on developing innovative new recipes.
Find out more