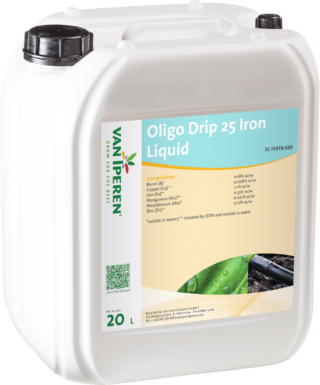 Van Iperen Oligo Drip 25 Iron Liquid is a pure and highly concentrated liquid micronutrient fertilizer with 2,1% of Iron. It is a mix of EDTA chelated micronutrients. Our product is a stable solution and is recommended at different phenological stages. The high level of micronutrients in our formula improves plant vitality and production.
Overcomes general Micronutrient defiencies
Micronutrients 100% chelated and fully available up to a pH of 9 (Iron up to a pH of 6)
Easy to handle and apply
Developed for foliar application. Also suitable for fertigation in open field and greenhouses
Soft for leaf tissue
Fertilizing Knowledge
How to choose an Iron chelate?
There are many options to add Iron to your crop. The most efficient way is chelated Iron for its stability, availability for the plant and its easiness to use. But choosing among the different solutions can be a challenge. How to choose? We can help you!
Find out more