On our journey around Turkey, we stop at a small village in the Manisa province to visit an extended area of grapevines treated with our Essentials and High Performing Solutions and chat with a grape grower about the impacts of abiotic stress on grape yields.
Growers are on the front line. Extreme weather conditions such as droughts, hotter summers, warmer winters, sudden spring frosts, hailstorms, or floodings are transforming their practices. These profound changes in weather patterns are forcing growers to take decisive steps to adapt to the shifts.
In this context, some crops are more exposed than others. "Grapevines are one of the most sensitive crops in agriculture. And we need effective solutions from bud burst until harvest that guarantees yield performance in stressful circumstances", says Mr. Ibrahim Gursoy, grape grower.
As many growers find themselves in this context, we've asked Mehmet Erdil, Agricultural Engineer, to share his expertise on table grapes. His secret? A full program of Van Iperen products that covers all phenological stages.

A biostimulation effect to kick off the season
At the start of the season, Ibrahim ensures the vineyard's health with FoliaStim® Mn Zn and StimPure AA. "These products improve the transition from vegetative to generative stage and rachis elongation", says Mehmet Erdil.
During periods of abiotic stress, the high content of seaweed in StimPure AA will pass the biostimulant effect to the crop. In this way, growers will protect their plants from sudden cold snaps.

How to counteract the effects of drought on grapevines
For grape growers, experience counts for an awful lot. But with global warming, growers can not rely anymore on this knowledge. Drought goes hand in hand with climate change and has negative effects on plant performance. Like in most fruit, drought reduces the berry size, resulting in a reduction in crop yield.
To counteract the effects of drought on vineyards, Mehmet has introduced WAKE-up® Liquid in the biostimulation program: "It helps us minimize the crop water requirements and increase the Water Use Efficiency (WUE) of the plant. The effect is sure visible at yield and yield quality levels".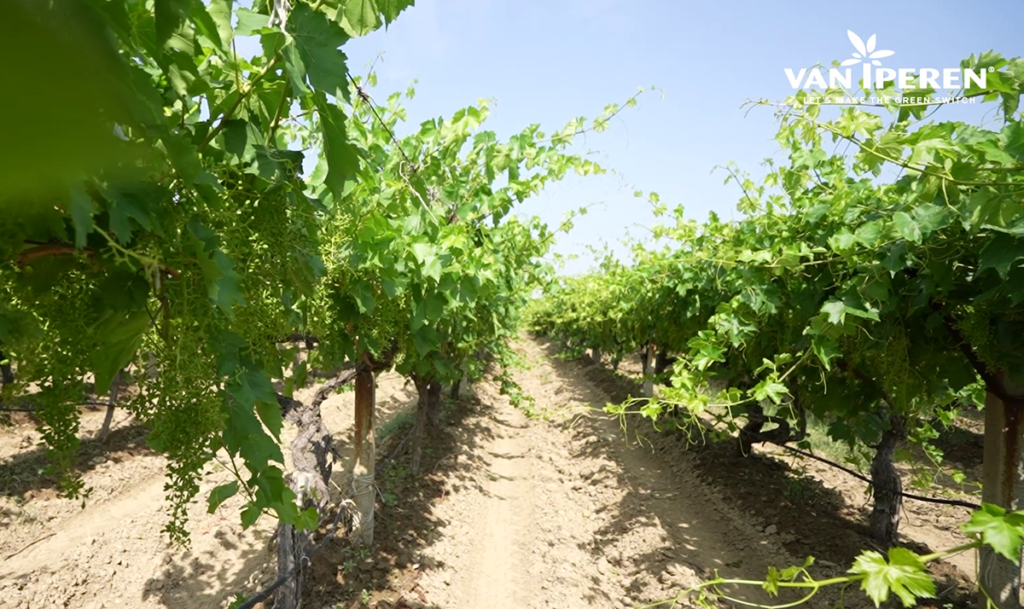 Using innovative solutions brings the best opportunities
Working with innovative solutions such as FoliaStim® Mn Zn, StimPure AA, and WAKE-up® Liquid allows grape growers to adapt to these changing circumstances. Thanks to Safa Tarim, Van Iperen's solutions are available in the Turkish market. You can read more real stories of growers in the following articles.