In a significant step towards sustainable agriculture, OK Plant has taken a pioneering step by embracing circular fertilizers and introducing GreenSwitch® Original in their greenhouse production process.
In the agricultural industry, circular fertilizers are leading the way for many companies looking for innovative and sustainable solutions to redefine how we nurture our crops. In this context, OK Plant has chosen to take sustainability to new heights by incorporating GreenSwitch® Original, our low-carbon footprint Nitrate fertilizer produced from manure, into their cultivation practices. Their decision goes beyond mere adoption—it's a commitment to environmental responsibility and a testament to the advantages of embracing circular fertilizers.

From Linear to Circular Production Processes
The conversation around fertilizers is evolving, with a growing emphasis on transitioning from linear to circular production processes. Why? Circular fertilizers present an effective solution to the waste problem, transforming discarded materials into valuable resources to create new fertilizers. And that's at the core of GreenSwitch®.
Marc van Oers, Director of Innovations at Van Iperen International, explains GreenSwitch® more in-depth: "GreenSwitch® encompasses various circular production processes, including GreenSwitch® Nitrate, GreenSwitch® Potassium, and the soon-to-come GreenSwitch® Phosphate. All projects centered around extracting essential nutrients from residue streams to produce high-quality sustainable fertilizers that can be used in greenhouses."
Based on Pure Green Agriculture technology, the GreenSwitch® Nitrate process produces, from manure, a sustainable liquid Nitrate fertilizer with a negligible carbon footprint. And we call it GreenSwitch® Original.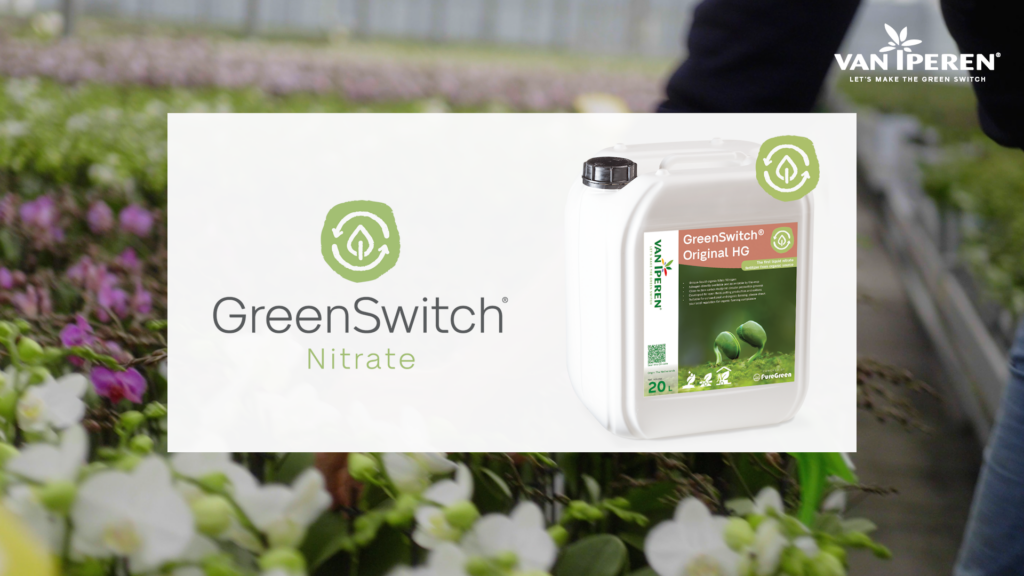 A Visit to OK Plant: Implementation of GreenSwitch® Original
During our visit, Rob Olsthoorn, owner of OK Plant in Naaldwijk, The Netherlands, shared insights into the application of GreenSwitch® Original. Our innovative, low-carbon footprint Nitrate fertilizer, derived from manure, is making waves in the cultivation of orchids. According to Rob, the decision is rooted in environmental considerations and economic advantages, with no compromise in crop yield.


Why Circular Fertilizers Matter
Willem, Product Manager of Fertilizers and Technical Specialist at Van Iperen BV, sheds light on the importance of circular fertilizers. "The importance lies in facilitating CO2 reduction in agriculture," he explains. Circular fertilizers present an effective solution to other industries' waste problems, transforming discarded materials into valuable resources.
Also, OK Plant joins the list of GreenSwitch® Ambassadors. Among others are companies such as Van der Avoird Trayplant, Beyond Chrysant, Bunnik Plants, and Hoogeveen Plants.
GreenSwitch® Original, our circular fertilizer, sets the stage for a new era to make conventional agriculture more sustainable.