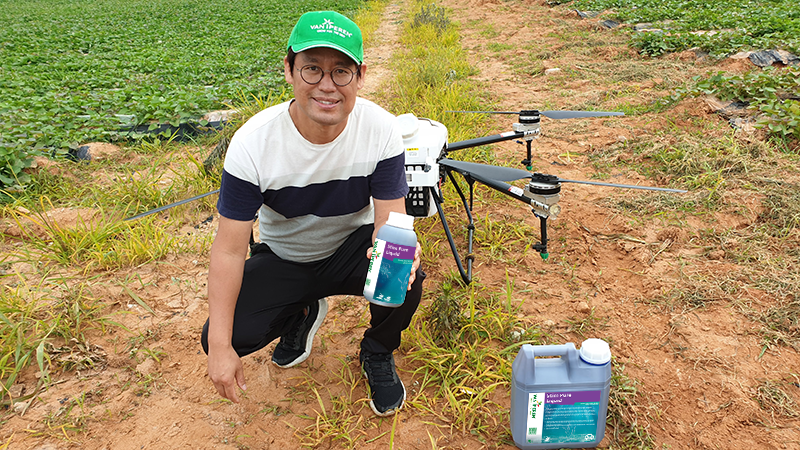 Drones have not yet made it into the mainstream agriculture space, but we can tell they will stay with us. Today, we take you to the South Korean fields to show you the application of our Stim Pure Liquid biostimulant with drones.
High-tech agriculture is unstoppable. The adoption of new technologies, like drones (also known as Unmanned Aerial Vehicles or UAVs), is becoming little by little part of smart agriculture practices. So what if we use spraying drones with Van Iperen biostimulants to provide more precise treatments? Well, you don't have to think about it cause here's the video of a grower doing it:
One of our partners invited us to watch the drone application of our Stim Pure biostimulant on sweet potatoes in South Korea. This pure and highly concentrated liquid seaweed is very easy to use for drone applications thanks to its good compatibility and no nozzle clogging. Stim Pure Liquid is part of our Pure Seaweed products, together with Iperen Algae and Stim Pure AA Liquid.
Who thought ten years ago that drones were going to make it all the way into the agriculture industry? As more growers embrace the idea of using high-tech help in agriculture, we want to support them with our high-performing solutions. In this case, combining precision crop nutrition with spraying drones can multiply the opportunities on the field. By optimizing fertilizer treatment and applying only the right amount at the right time, you can reduce costs significantly and at the same time make environmental savings.
Discover our range of specialty fertilizers and biostimulants on our website: www.vaniperen.com/products Do you need advice? Then email us now at info@iperen.com