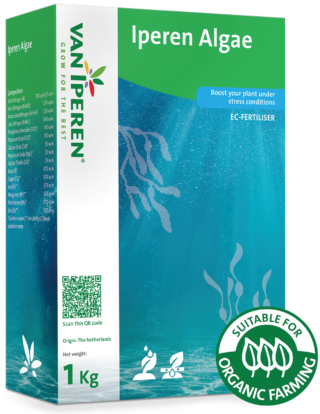 Iperen Algae is a concentrated, pure and soluble seaweed extract of Ascophyllum nodosum. Our product is resistant to caking and is recommended at different phenological stages. Ascophyllum nodosum is continuously exposed to ebb and flood and survives in a high salinity environment. Our Canadian Ascophyllum nodosum passes its stress resistance properties on to the plant. It is known for its high consistency independent of the harvesting season and for its unique way of processing.
Suitable for organic farming in compliance with European Regulation (EU) 2018/848
Maximizes plant potential during periods of abiotic stress, increases root growth and establishment of the crop and improves plant vigor and nutritional health
Developed for fertigation in open field and greenhouses. Also suitable for foliar application and root-dipping
Soft for leaf tissue
Brown-black flakes
100% of high quality Canadian seaweed (Ascophylum Nodosum)
Rapidly dissolvable at high concentration
Processing of seaweed according to unique method, guaranteeing optimal effect
Easy to handle and apply
Fertigation
Crop
Application date
Min kg/ha/season
Max kg/ha/season
Vegetables

• As of transplanting
• During plant establishment
• Until beginning of flowering
5
10
Foliar Application
Crop
Application date
Min kg / ha / appl
Max kg / ha / appl
Arable crops

3 - 4 applications:
• During vegetative growth
1
3
Vegetables

4 - 5 applications:
• 10 - 14 days interval
• Until fruit ripening
1
2
Fruit trees

3 - 4 applications:
• As of bud burst
• As of flowering
• As of fruit setting
• As of harvesting
1
2
Pistachio

4 - 5 applications:
• As of bud burst
• As of fruit setting
• As of harvesting
1
3
Table grape

4 - 5 applications:
• As of vegetative growth
• Before flowering
• During post flowering
• Until bunch closing
• As of harvesting
1
2
In case of foliar feeding as part of a mix with crop protection products, a compatibility test has to be done prior to preparing the spray-mix.
The mentioned indicated dosages and application stages are given as a guideline. Exact dosages, concentration and application stage are subject to local conditions, use of other fertilizers and can only be given after an objective diagnosis.
Preparing your downloads, please wait...
Compatible with other fertilizers, with the exception of Calcium fertilizers. Therefore a separate tank is needed or fertilizers should be applied on different times. The pH of the tank solution should be above 4.