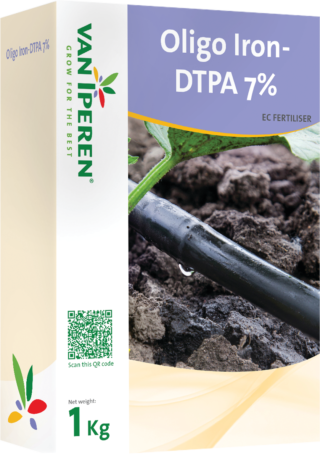 Van Iperen Oligo Iron-DTPA 7% is a pure an highly concentrated liquid Iron fertilizer. Iron DTPA is adviced for hydroponics. Our product is a stable, translucent solution and is recommended at different phenological stages. The high level of Iron in our formula improves the production of chlorophyll.
Gives a strong apical zone, free of chlorosis
Iron 100% chelated and fully available up to a pH of 7
Developed for soilless grown crops
Recommended in case of recycled water with UV-sterilization

Rapidly dissolvable
Free of Ammonium
Patented micro granulation process
Raspberry shaped, light brown microgranules
Easy to handle, dissolve and apply
Hydroponics
| In 1.000 l stock solution | Fe in g | Fe in mmol |
| --- | --- | --- |
| 0.1 kg | 7 | 0.13 |
| 0.5 kg | 35 | 0.63 |
| 1.0 kg | 70 | 1.25 |
| 1.5 kg | 105 | 1.88 |
Other dosage Instruction
For foliar application you can choose between EDTA and IDHA. EDTA can also be used for open field fertigation in case of soils up to a pH of 6. For open field fertigation in alkaline soils you can choose between EDDHA and HBED. For high-tech soilless greenhouse, DTPA is your best choice.
Preparing your downloads, please wait...
Compatible with other fertilizers. The pH of the tank solution should be above 4.