Van Iperen International is firmly committed to supporting its partners all the way through with easy-to-handle tools. Part of this commitment comes with the introduction of new marketing material. And today, we are happy to present our Van Iperen WS-NPK pocket guide! 
Our Van Iperen WS-NPK pocket guide responds to our partners' needs in a time where in-person meetings are not that easy to happen. From composition to dosing tables, this booklet contains all information related to our Water Soluble NPK range: 
High-quality standard WS NPKs

WS NPKs for hard water and rainwater

WS NPKs with our Iperen IPE® Technology for Increased Phosphate Efficiency
Available in other languages under request, this new tool is set to be a win-win for all our partners around the world. Its small size and design make of Van Iperen WS-NPK pocket guide the best asset for your meetings and presentations.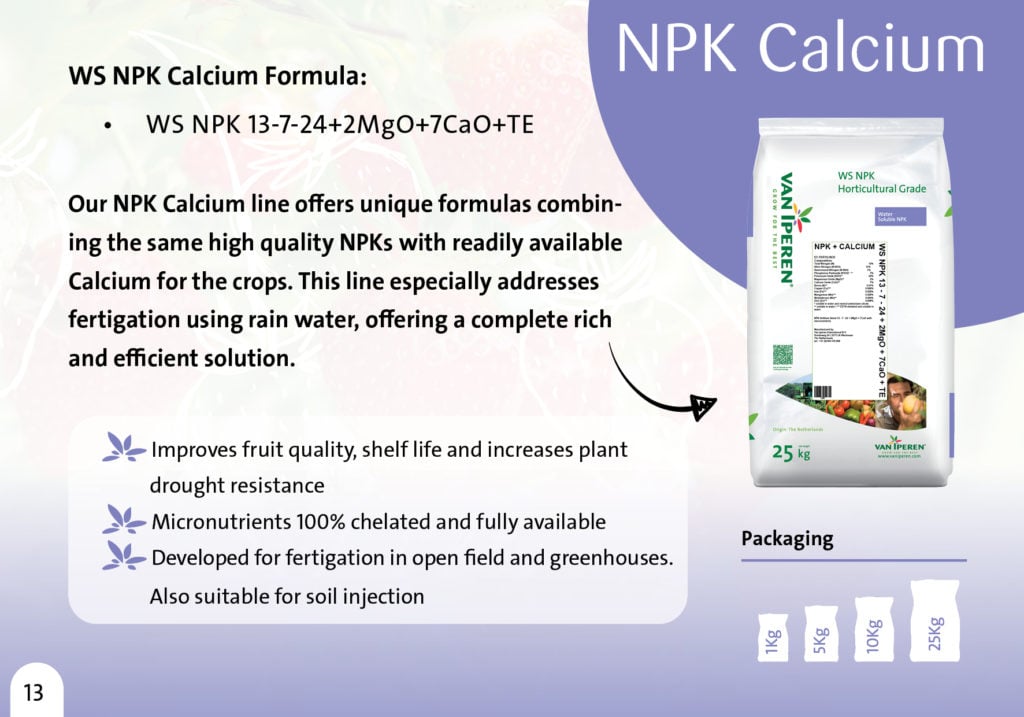 New division to fulfill your needs
Along with this document, we've introduced a new structure within our Water Soluble NPK range. To fulfill better growers' needs, all formulas have been divided into the following groups:
Energy Start: our Energy Start group comes with high Phosphate formulas, destined to be used during critical early stages to help to induce proper plant establishment, quality rooting, and optimal flowering.
Fit Crop: our Fit Crop line comes as a multi-purpose solution with balanced Nitrogen, Phosphate, and Potassium formulas, destined to be used during vegetative growth and early production stages. 
Low pH: our Low pH formulas were developed using specific acid technology that will drop the pH of the final product. This gives the formulation an increased efficiency in alkaline waters thanks to the buffering of bicarbonates with acid, for higher plant assimilation of all elements, including micronutrients.
NPK Calcium: our NPK Calcium group offers unique formulas combining the same high-quality NPKs with readily available Calcium for the crops. This line addresses fertigation using rainwater, offering a rich and efficient solution. 
Quality Yield: our Quality Yield formulas come with high Potassium formulas, recommended to use as of fruit/tuber set and during fruit development until maturation stages.
Vigor Growth: our Vigor Growth line comes with high Nitrogen formulas, intended to be used during periods of intensive vegetative growth and protein build up in grain or fruit.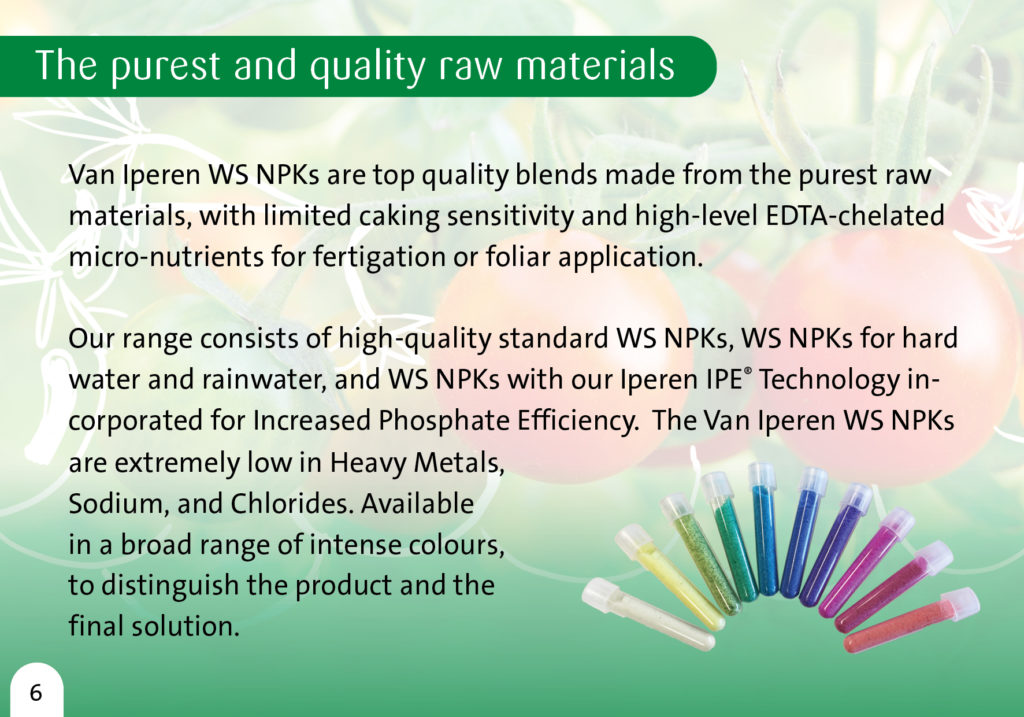 Flexible production for customized formulas
Van Iperen WS NPKs are produced in our own plant in The Netherlands. In a completely automated blending line, a large variety of key components and additives are blended into a homogeneous end product. The factory has the capacity to blend 250 tons of products a day. 
The specific set-up of the blending line and our personnel's large expertise enables extremely precise and continuous monitoring of the quality of the raw materials. The link with the completely automated ERP system ensures that versatile, customized wishes and formulas can be processed without a problem.