Since almost one year, Gabrielle Schoemaker is the first woman in the position of International Sales Manager at Van Iperen International. She looks back and shares her experience on working in this man's world.
"When I started, I knew I could expect some jokes from the guys in the team of course. So when I needed to get my car towed on my first trip abroad with a customer, it started: "Ai, is this what happens when we add a lady to the team?", but I just see it as bad luck and laughed about it", Gabrielle reminisces.
One lady already pioneered in the Sales team of Van Iperen; Valerie Quesnel has been in the position of Sales Coordinator for a long time. However, Gabrielle was the first woman in the position of Sales Manager, which according to her is a challenge, but also a big opportunity. "After 1,5 years of travelling the world I returned at the Van Iperen family last October, but in a new role where I get to know the other side of the company. Travelling the world on my own, spending time at different ranches across the world, didn't back me down and only made me realize that you create your own success. Therefore I was ready to accept this new challenge. No more design changes like in my previous position in the marketing department, but mainly working with customers and our Supply Chain Specialists to deliver the best service", Gabrielle says.
Although for Van Iperen it was new to have a woman as Sales Manager, it is no exception these days. "I must admit that yes there are a lot of men working in our sector, but the sector is also evolving. I am definitely not the only one anymore, as many of my customers are also powerful women. Okay, at first there were some practical issues, like company clothing oriented on men, which are not too elegant to wear, but even this is changing", Gabrielle explains. In March this year, the Sales team even got reinforcement from a second lady when Irina Koshel joined the team for all Russian speaking countries.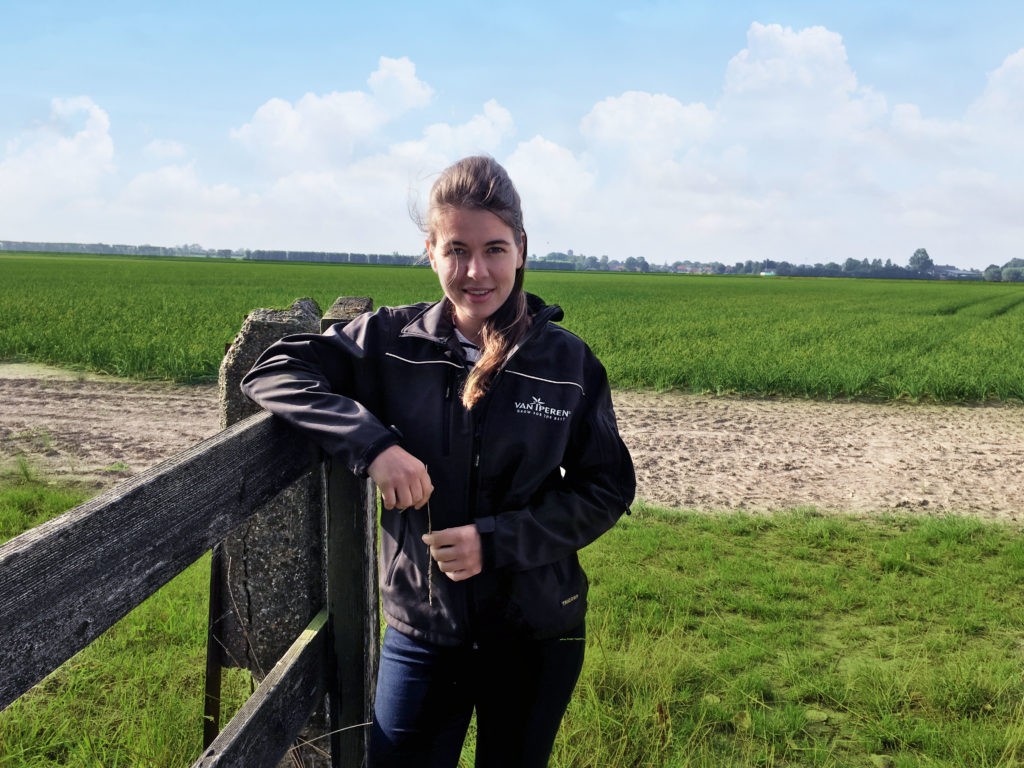 Besides being the first Sales lady on the team, Gabrielle is also responsible for a wide variety of countries. "Where in New Zealand and Australia we are currently in the peak of the preparations for the spring, a large part of Europe is harvesting, while Scandinavia is already managing the icy roads for the winter. This diversity really appeals to me, we are all human but the different cultures have a different way of communicating that you have to anticipate on. In fact this is quite similar to nutritional needs for plants, which also depend on the local conditions and the habits of the grower". 
"Looking at the rest of the sales team, I have a lot of support from the experienced salesmen which have done this job for many years, but I believe that also my open view could provide a refreshing perspective. My first big order was about Urea in buckets, many of my colleagues probably would have laughed when they got a request like this, but I took this serious which led to my first order. I never stepped away from a challenge and as a newcomer I still have to learn a lot, but I promise that I will do my utmost best to serve our customer the best I can. Maybe a small advantage that care taking is in our female nature", Gabrielle concludes.