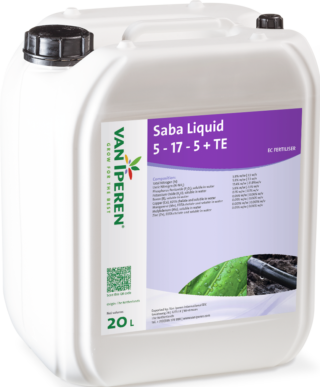 Van Iperen Saba Liquid | 5 - 17 - 5 + TE is a pure and concentrated Liquid NPK with a high level of Phosphate combined with EDTA chelated Micronutrients. Our product is a transparent and stable solution recommended as a complement during critical early stages to help inducing proper plant establishment and quality rooting and flowering. Succeeding in early plant development is crucial to secure good yields and optimum plant performance. Produced in our own plant Euroliquids.
Improves root and shoot growth
Micronutrients 100% chelated and fully available
Developed for foliar application. Also suitable for fertigation in open field and greenhouses
Soft for leaf tissue
Low on heavy metals
Low on Sodium and Chloride
Production process certified according to ISO 9001:2015
Easy to handle and apply
Fertigation
Foliar Application
Preparing your downloads, please wait...
Compatible with other fertilizers, with the exception of Calcium fertilizers. Therefore a separate tank is needed or fertilizers should be applied on different times. The pH of the tank solution should be above 4.