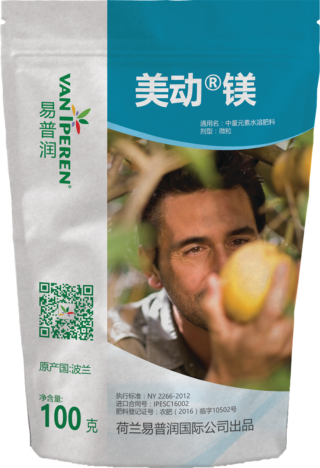 Van Iperen Magnesium-EDTA 10% is a fully EDTA chelated Magnesium fertilizer, which dissolves rapidly and completely. Due to the chelated form it is highly available for the plant. Our product is dust free and is recommended as of early spring until fruit setting. The high level of Magnesium in our formula contributes to the production of chlorophyll.
Improves leaf colour
Micronutrients 100% chelated and fully available up to a pH of 9
Developed for foliar application. Also suitable for fertigation in open field and greenhouses
Raspberry shaped, white micro granule
Patented micro granulation process
Rapidly dissolvable at high concentration
Easy to handle, dissolve and apply
无土栽培 | Hydroponics
叶面施肥 | Foliar application
请您填写以下信息,我们会尽快联系您并提供您所需的产品信息。
请您填写以下信息,我们会尽快联系您并提供您所需的产品信息。
Compatible with other fertilizers. The pH of the tank solution should be above 4.