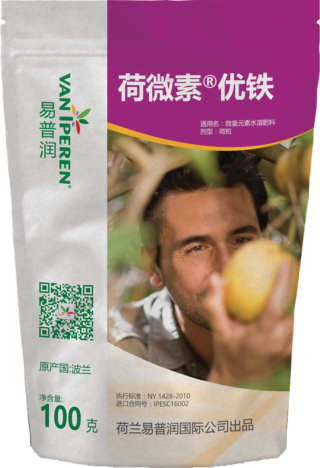 Iperen Fer Triathlon - containing 8.2% of Iron - is a highly pure, 50 % HBED, 40% EDDHA and 10% DTPA chelated Iron fertilizer, which dissolves rapidly and completely. Iperen Fer Triathlon is advised in alkaline conditions. The combination of these three high quality chelating agents gives your iron a full protection no matter the condition, and a fast and long lasting effect. Our product is dust free and is recommended at initial growth stages.
Gives a strong apical zone, free of chlorosis
100% chelated and highly available iron up to a pH of 12
Developed for fertigation in open field and for soil injection
No affinity with copper, which improves the assimilation of iron

Rapidly dissolvable
HBED is UV-resistant
HBED is stable for a long period of time
Easy to handle, dissolve and apply
无土栽培 | Hydroponics
滴灌 | Fertigation
It is possible to apply a lower dose than recommended in case of low risk of deficiency or to avoid an expected potential slight deficiency.
请您填写以下信息,我们会尽快联系您并提供您所需的产品信息。
请您填写以下信息,我们会尽快联系您并提供您所需的产品信息。
Compatible with other fertilizers. The pH of the tank solution should be above 4.
肥料知识
如何选择合适的铁螯合物?
为作物补充铁有许多选择,最有效的方法就是使用螯合铁,螯合铁较为稳定,可确保养分被植物吸收,而且便于使用。但是从市场上不同产品中选择总是比较困难。到底应该如何选择?我们可以帮助您。
更多了解