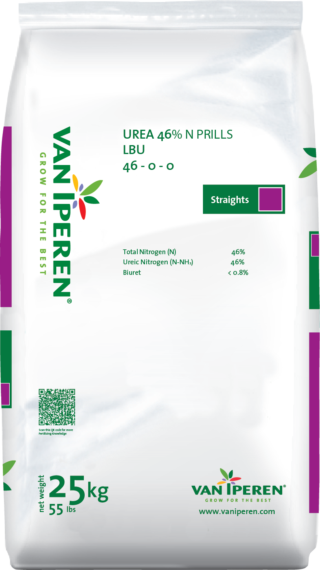 Van Iperen Urea 46% N Prills LBU is a highly pure Nitrogen fertilizer which dissolve rapidly and completely. Our product is recommended during periods of vegetative growth. The high level of Nitrogen in our formula improves cell elongation and contributes to the production of protein, supporting enzymatic reactions.
Improves vegetative growth
Developed for fertigation in open field crops. Also suitable for foliar application
Low on heavy metals
Low on Sodium and Chloride
White crystals
Production process certified according to ISO 9001:2008
Easy to handle, dissolve and apply
Fertigation
Crop
Application date
Min kg/ha/season
Max kg/ha/season
Banana

• During entire fertigation program
200
500
Citrus

• Spring application
• Winter application
200
400
Potato

• Until tuber setting
200
300
Bulbous vegetables

• During vegetative growth
150
300
Vineyards

• During leaf bud opening
100
200
Pineapple

• During first half of fertigation program
180
220
Foliar Application
Crop
Application date
Min kg / ha / appl
Max kg / ha / appl
Conc. % (w/v))
Arable crops

1 - 3 applications:
• Until first half of crop cycle
2
4
0.5 - 1.0
Bulbous vegetables

1 - 2 applications:
• During vegetative growth
3
4
0.5
Cereals

1 application:
• Until elongation
2
4
0.5 - 1.0
Soybean

1 - 2 applications:
• During vegetative growth
2
3
0.5
Pineapple

1 - 2 applications:
• Until first half of crop cycle
3
6
1.0
In case of foliar feeding as part of a mix with crop protection products, a compatibility test has to be done prior to preparing the spray-mix.
The mentioned indicated dosages and application stages are given as a guideline. Exact dosages, concentration and application stage are subject to local conditions, use of other fertilizers and can only be given after an objective diagnosis.
Preparing your downloads, please wait...
Compatible with other fertilizers, with the exception of Calcium fertilizers. Therefore a separate tank is needed or fertilizers should be applied on different times.
Fertilizing Knowledge
Our network of Straights producers
We have developed a unique network of European Straights producers to provide you the best and widest range of Water Soluble Straights.
Find out more