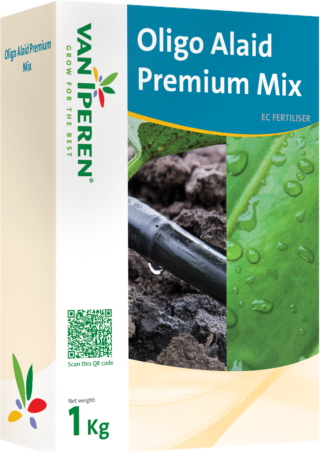 Fertigation
| Crop | Application date | Min kg/ha/season | Max kg/ha/season |
| --- | --- | --- | --- |
| Fruit trees | • As of beginning of fertigation program | 5 | 10 |
| Citrus | • As of beginning of fertigation program | 6 | 12 |
| Strawberry | • As of beginning of fertigation program | 4 | 8 |
| Fruit vegetables | • As of beginning of fertigation program | 4 | 8 |
| Banana | • As of beginning of fertigation program | 8 | 12 |
Foliar Application
Crop
Application date
Min kg / ha / appl
Max kg / ha / appl
Conc. % (w/v))
Fruit trees

1 - 3 applications:
• During vegetative growth - in post-harvest
0.7
1
0.1
Citrus

1 - 4 applications:
• During vegetative growth - in post-harvest
0.5
1.5
0.2
Strawberry

1 - 3 applications:
• Until fruit setting
0.5
0.7
0.1
Fruit vegetables

2 - 5 applications:
• Until fruit setting
• During intensive vegetative growth
0.5
1.0
0.2
Arable crops

1 - 3 applications:
• As of enough leaf coverage
0.5
1.0
0.2
Melon

1 - 4 applications:
• As of vegetative growth
0.5
0.7
0.2
Onion

1 - 4 applications:
• As of vegetative growth
0.5
0.7
0.2
Potato

1 - 5 applications:
• As of vegetative growth
0.5
1.0
0.3
Leguminosae

1 - 3 applications:
• As of vegetative growth
0.5
0.7
0.1
In case of foliar feeding as part of a mix with crop protection products, a compatibility test has to be done prior to preparing the spray-mix.
The mentioned indicated dosages and application stages are given as a guideline. Exact dosages, concentration and application stage are subject to local conditions, use of other fertilizers and can only be given after an objective diagnosis.
Preparing your downloads, please wait...