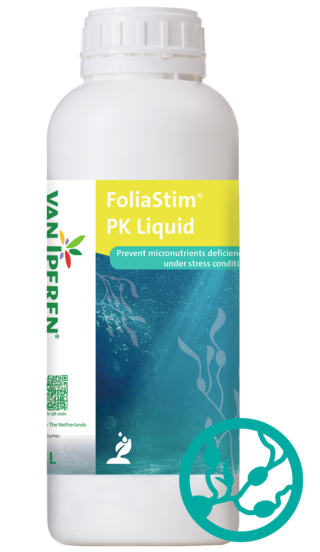 Van Iperen FoliaStim® PK Liquid is a pure and highly concentrated liquid PK fertilizer, formulated with 15% seaweed. Our product is a stable solution and is recommended at different phenological stages. The high level of Phosphate and Potassium in our formula improves cell divistion, cell pressure and development of new plant tissue. The presence of high quality seaweed supports the uptake and the transportation of nutrients and increases resistance against abiotic stress.
Improves root and shoot growth, fruit quality, shelflife and increases drought and heat resistance.
Synergistic effect between seaweed and nutrients
Micronutrients 100% chelated and fully available
Developed for foliar application
Soft for leaf tissue
Highly concentrated solution
15% w/w of high quality Canadian seaweed (Ascophylum Nodosum)
Dark brown liquid
Processing of seaweed according to unique method, guaranteeing optimal effect
Production process certified according to ISO 9001:2015
Easy to handle and apply
Produced in our own plant Euroliquids.
Foliar Application
Crop
Application date
Min L / ha / appl
Max L / ha / appl
Conc. % (w/v))
Fruit trees

1 - 3 applications:
• As of fruit setting
• Until fruit ripening
3
6
1.0 - 2.0
Vineyards

1 - 3 applications:
• As of vegetative growth
• Until flower bud opening
• 7 - 10 days interval
2
3
1.0 - 2.0
Vegetables

1 - 3 applications:
• During vegetative growth
• During fruit filling
2
5
1.0 - 2.0
Citrus

1 - 3 applications:
• During fruit setting
• During fruit filling
3
5
1.0 - 2.0
Tomato

1 - 3 applications:
• As of fruit filling
• Until 2 weeks before harvesting
3
5
1.0 - 2.0
Strawberry

1 - 3 applications:
• During fruit setting
• During fruit filling
3
6
1.0 - 2.0
Potato

1 - 3 applications:
• As of 4 weeks after planting
• 7 - 10 days interval
2
6
1.0 - 2.0
In case of foliar feeding as part of a mix with crop protection products, a compatibility test has to be done prior to preparing the spray-mix.
The mentioned indicated dosages and application stages are given as a guideline. Exact dosages, concentration and application stage are subject to local conditions, use of other fertilizers and can only be given after an objective diagnosis.
Please fill your credentials to receive the downloads by email.
Compatible with other fertilizers, with the exception of Calcium fertilizers. Therefore a separate tank is needed or fertilizers should be applied on different times. The pH of the tank solution should be above 4.
Fertilizing Knowledge
How can Seaweed improve yield?
Seaweeds are used in agriculture since the 17th Century. For example to improve resistance to drought. Combined with new technologies and due to climate changes, seaweed is the number one biostimulant used by growers worldwide.
Find out more